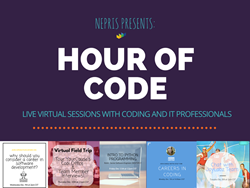 Nepris brings Hour of Code experts to classrooms for virtual sessions Dec 7-11.
DALLAS (PRWEB) December 04, 2015
Eight live, interactive and virtual STEM sessions will be hosted by Nepris.com during Hour of Code Week December 7-11, 2015. Teachers can sign up for their class of students to participate in sessions offered at various times during the week. Learn more HERE. Topics include:

Careers in Coding with AT&T
Life's Better with Computer Science
Careers in Information Technology
Live Chat with JoyLabz Team about MakeyMakey!
Live Chat with Max Gaudin on why students should consider a career in software development
Virtual Field Trip: Tour the offices of tech startup YourCause
Intro to Programming with Python
Coding with Kids! by SmartStart
Nepris is a cloud-based social platform where teachers and industry professionals connect and collaborate through virtual, interactive sessions showing students how science, technology, engineering, the Arts and math are applied in the real world. See a sample session here: https://vimeo.com/114793899
Teachers wishing to explore these topics with their students can sign up at Nepris.com. New registrants may participate in one free session and have unlimited access to nearly a 1,000 archived sessions from hundreds of professionals covering STEM topics like measurement in fashion design, to careers in medicine, to crime scene investigation, or on Arts topics like a session on drama and mini Lego movies.
Nepris subscribers have access to all the #HourofCode sessions as well as unlimited access to archived sessions.
About Nepris
Dallas-based Nepris brings STEM to life (and now STEAM, which adds the Arts to science, technology, engineering and mathematics) by connecting professionals with teachers and classrooms who need speakers, project mentors or evaluators for interactive, cloud-based sessions. Nepris makes this a turn-key process: identifying and registering professionals and teachers, matching professionals' skills to the teachers' needs, advising on best practices for classroom interaction, hosting the interactive sessions and tracking all the data in a social platform. See Nepris in action at Nepris.com/webinar or sign-up as a teacher or STEM professional at nepris.com.