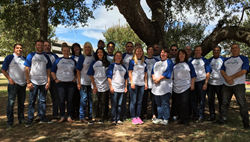 Our team's passion shows in all we do. At Alchemy we recognize that our employees drive growth and success. - Wes Burke
Austin, TX (PRWEB) December 03, 2015
Alchemy Systems, the global leader in food and workplace safety, announced that it has been selected as one of the Austin American-Statesman's Top Workplaces for the second year in a row. The annual Top Workplaces selections are awarded solely on anonymous employee surveys conducted by Workforce Dynamics, an independent agency.
Alchemy employees gave the company high marks for its mission to help protect the global food supply. Survey respondents said that Alchemy enables them to work at their full potential citing managerial support for personal and professional growth. They also appreciate Alchemy's work life balance, and dedication to giving back to the community.
Human Resources Director Wes Burke says, "Our team's passion shows in all we do. At Alchemy we recognize that our employees drive growth and success. The environment is flexible, fun, and collaborative. We are a team of continuous learners – the food industry is always changing so our team has to learn and evolve as well."
"I love that Alchemy enables us to give back to the community," says Alchemist Naomi Busby. "This holiday we'll be supporting our local food bank. We also support Ride for Heart, and Tyler's Dam That Cancer."
The Austin American-Statesman published the complete list of Top Workplaces on Sunday, Nov. 15. WorkplaceDynamics, LLP, a leading research firm, conducts the anonymous employee survey and shares the results with the Austin American-Statesman for their annual report.
View open career opportunities.
ABOUT ALCHEMY
Alchemy is the global leader of innovative solutions that help food companies engage with their workforces to drive safety and productivity. Over two million food workers at 15,000 locations use Alchemy's tailored training, coaching, and communications programs to reduce workplace injuries, safeguard food, and increase yield.