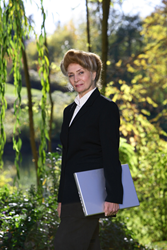 Grants Pass, OR (PRWEB) December 04, 2015
Water, not oil or gold, is the world's most precious commodity. Water not only keeps every living organism alive, it is the basis for all human economic activity. Build a community well in an impoverished, subsistence level African village and suddenly people are going to school, starting businesses and serving on local committees. Fresh water advocate and radio host Sharon Kleyne believes that nearly every conflict on Earth is ultimately either a water war or has water as a component. This includes the conflicts involving Israel-Palestine, ISIS and Syria.
Conversely, says Kleyne, in the most economically successful places, water supply and waste water treatment are the most modern and progressive. Within this group, Southern California, Singapore and Sweden stand out.
Kleyne recently discussed water wars, ISIS, Syria, Israel-Palestine, fresh water policy and Water Life Science® on her Sharon Kleyne Hour® Power of Water® radio show of Monday, Nov. 30, 2015. For the live show or a podcast, go to http://www.SharonKleyneHour.com.
The globally syndicated, education oriented radio show is heard weekly on VoiceAmerica (Health and Wellness, and Variety Channels) and Apple iTunes. The show is sponsored by Bio-Logic Aqua® Research Water Life Science®, founded by Kleyne and specializing in fresh water, the atmosphere, body surface evaporation and dehydration. The Research Center's signature product for dry, dehydrated eyes is Nature's Tears® EyeMist®.
Kleyne will discuss the role of water in the following areas:
Israel-Palestine: While water is not the primary cause of this conflict, says Kleyne, it is very much a factor. Despite a joint Israel-Palestine commission on water allotment, Israel asserts nearly total control over water rights in the Judean Highlands and Gaza Basin. Both are supposedly Palestinian areas. The average Israeli living in a Palestinian area uses 300 gallons of water per day while the average Palestinian uses 70 gallons per day. This has an enormous impact on Palestinian economic development.
ISIS: Although ISIS bases its ambitions on philosophy and theology, Kleyne explains, water is integral to their strategy. The primary water sources in Iraq are the Tigris and Euphrates Rivers. The primary water source in Syria is the Euphrates. Both rivers originate in Turkey. Iraq and Syria were the earliest ISIS targets and their initial strategy was to attempt to capture the three biggest reservoirs in Iraq and the biggest in Syria.
Syria: The ongoing internal conflict, Kleyne notes, was triggered in part by a spike in food prices caused by an extended drought. Most Syrian rivers, including the Euphrates, begin in Turkey, which, because of the same drought, has been removing water before it reaches Syria.
Iraq: In the rebellion following the Gulf War, according to Kleyne, Saddam Hussein punished the Iraq's Shiite Muslim "Marsh Arabs," by draining the marshes where the Tigris-Euphrates River empties into the Persian Gulf – an area believed by some to have been the site of the Garden of Eden. Thousands of Marsh Arabs either died or fled. Since the Iraq War, the United States has restored 75 to 90 percent of the marshes.
Yemen: In this failed, impoverished and constantly war torn state, says Kleyne, al-Qaida is extremely powerful, in part because they finance well-drilling projects for local tribes. Because of constant drought, many people are moving to the cities, which also have severe fresh water problems.
Singapore: This tiny island nation, says Kleyne, with the world's second densest population, has become the water conservation model for the world. Singapore formerly obtained 50 percent of its water from Malaysia. With the success of the current water strategy, and despite an extended drought, the country did not renew a 50 year water contract with Malaysia that expired in 2011. Singapore projects 100 percent water independence by 2061, even though demand will have doubled by then.
United States: According to Kleyne, the U.S. is experiencing increasing long-term drought, not only in the rapidly growing Western desert areas but in regions once considered fresh water rich, such as Georgia and Alabama. Most Western water comes originates in Colorado, Washington and Canada and is coveted by California, Nevada and Arizona. Allocation of fresh water for cities versus agriculture is a major issue. Southern California's Orange and San Diego Counties have made huge strides in the recycling of waste water and ground water replenishment.
©2015 Bio-Logic Aqua® Research Water Life Science®. All rights reserved.