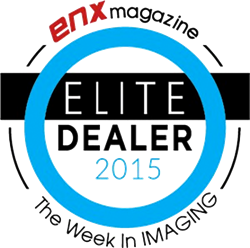 ...we take pride in listening closely to our clients and learning what their needs are, and then building an innovative solution.
Minneapolis, MN (PRWEB) December 08, 2015
Loffler Companies has been selected as a 2015 Elite Dealer by The Week in Imaging, an online information and news publication for resellers of imaging technology, supplies, and services. This is the seventh consecutive year Loffler has earned this prestigious award and the eighth award in recent years.
The Elite Dealer Awards honor the best and the brightest in the imaging technology dealer community. This year's Elite Dealer honorees were chosen to celebrate entrepreneurship, innovative marketing and sales initiatives as well as company culture, corporate citizenship, and community involvement. A consistent theme among those chosen as Elite Dealers is that many are thought of highly by their vendors and their communities and have been honored by them as well. Also common among all of the Elite is that "something different" that each dealership brings to the table.
"At Loffler we take pride in listening closely to our clients and learning what their needs are, and then building an innovative solution," said Jim Loffler, President and CEO. "With the game-changing software solutions we offer, our attention to detail, our follow through from assessment to implementation and beyond, we are helping clients improve and grow their businesses with cost effective and productivity-enhancing products and services."
The Week in Imaging isn't the only organization that's noticed Loffler. For the eighth consecutive year, Loffler Companies was honored to be named to the Inc. 500/5000 Fastest Growing Private Companies in America list. In addition to winning the prestigious Jefferson Award for Public Service, Loffler has been named a Star Tribune Top workplace for five years-in-a-row, and one of the "100 Best Places to Work in Minnesota" by Minnesota Business magazine for four consecutive years.
Loffler Companies, excelling under Jim Loffler's leadership since 1986, continues to be the leading business technology and services provider in Minnesota and Western Wisconsin. Recognized as the number one Minnesota Canon copier dealer, the top Konica Minolta dealer covering Minnesota and Western Wisconsin, as well as an HP Elite Partner dealer, Loffler's more than 400 employees work hard every day to exceed the expectations of clients, partners and the community. In addition, Loffler is one of the top 15 Canon and Konica Minolta dealers in the country, a Konica Minolta bizhub PRO specialist and Konica Minolta Pro-Tech Certified (top 2% in the country), making it clear why they are an Elite Dealer. Loffler Companies' goal is to be the best business solutions provider in the Midwest.
About Loffler Companies, Inc. 
Loffler Companies is an independent professional services organization dedicated to providing innovative business technology and services serving the Twin Cities, St. Cloud and Central Minnesota area, and Western Wisconsin. Our offerings include Multi-Functional Copiers, Printers, Managed Print Services, IP Phones and Voice Recording, IT Solutions, Software and Workflow Technologies and On-site Managed Services for mailrooms and copy centers. For more information about Loffler Companies, visit us online at http://www.loffler.com, or contact us at 952-925-6800 or via email at info(at)loffler.com.