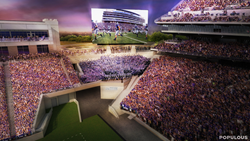 ... the hustle, flexibility and tireless work ethic of Mortenson | GE Johnson have enabled us to provide our student-athletes, coaches, staff and fans with some of the best facilities in the country. – John Currie, Athletic Director, K-State Athletics
Minneapolis, MN (PRWEB) December 04, 2015
This announcement comes two months after the Mortenson | GE Johnson team completed Phase 3A, the $65 million Vanier Family Football Complex and North Stadium Enhancements, early and under budget.
Upon completion in time for the 2016 football season, the $15 million North East Connector project will join the east side of the stadium to the new north side, creating a 360-degree concourse and completing the Stadium bowl. Fans will also be able to enjoy additional premium seating and a new videoboard that mirrors the new system recently installed during enhancements to the north side of the stadium. Additionally, the project includes a permanent space for the Pride of Wildcat Land Marching Band, a new visiting team locker room, and training and officials areas.
"Our track record of success at K-State and on other collegiate stadium construction projects such as the North End Zone Renovation at the University of Arizona, the expansion of Kinnick Stadium at the University of Iowa, and TCF Bank Stadium at the University of Minnesota, amongst others, makes us the perfect choice," said Travis Noble, Construction Executive, Mortenson Construction. "Our understanding of off-season renovations and our ability to coordinate around our customer's on-going operations and events is second-to-none."
The 50,000-seat Big 12 football stadium has received $180 million in improvements since 2012 and has drawn national acclaim and high-marks from fans, student-athletes, coaches, and University staff. Attendance has been at an all-time high with a recorded 27 consecutive sellouts.
"The improvements that we have made to Bill Snyder Family Stadium overall the last several years, totaling more than $180 million, have been a complete team effort, and the hustle, flexibility and tireless work ethic of Mortenson | GE Johnson have enabled us to provide our student-athletes, coaches, staff and fans with some of the best facilities in the country. We look forward to continuing that partnership with Phase 3B of the Bill Snyder Family Stadium Master Plan as we work to 'finish the bowl' and complete this phase," said John Currie, Athletic Director, K-State Athletics.
The ceremonial groundbreaking will be held at 12 p.m. on the northeast side of the stadium and will be attended by the Mortenson | GE Construction team, Populous, K-State President Kirk Schulz, Athletics Director John Currie, and representatives from the Wildcat football program.
Mortenson | GE Johnson completed Phase 2 of the Bill Snyder Family Stadium Master Plan on time and on budget in August, 2013 and Phase 3A early and under budget in July 2015.
About Mortenson Construction
Founded in 1954, Mortenson Construction is a U.S.-based, family-owned construction company. As one of the nation's top builders, Mortenson provides a complete range of services, including planning, program management, preconstruction, general contracting, construction management, design-build, and turn-key development.
Engineering News-Record currently ranks Mortenson the second largest sports builder in the U.S with notable facilities under construction including SunTrust Park, (Home of the MLB Atlanta Braves) and U.S. Bank Stadium (Home of the NFL Minnesota Vikings). Additional Mortenson-built sports facilities include Target Field, Minneapolis; Xcel Energy Center, St. Paul; Target Center, Minneapolis; TCF Bank Stadium, Minneapolis; KFC Yum! Center, Louisville; Kinnick Stadium, Iowa City; FedExForum, Memphis; Coors Field, Denver; Pepsi Center, Denver; Sprint Center, Kansas City; ShoWare Center, Kent, Wash.; Edward Jones Dome, St. Louis; Camelback Ranch Spring Training Facility, Glendale, Ariz.; Amsoil Arena, Duluth; and Salt River Fields at Talking Stick, Scottsdale, Ariz.
Mortenson has offices in Chicago, Denver, Milwaukee, Minneapolis, Phoenix, Portland, San Antonio and Seattle with operations in Canada. For more information, visit mortenson.com
About GE Johnson Construction
GE Johnson was founded in 1967 with a vision of building client relationships through innovative project services and by delivering on our commitments. Today, GE Johnson is an employee-owned corporation with a resume of projects ranging from $10,000 to over $240 million.
GE Johnson is currently ranked within the Top 400 Contractors List by Engineering News-Record and as a long time supporter of Kansas State University, has provided preconstruction and construction management services on the K-State Alumni Center, KSU Foundation Headquarters, the original Dev Nelson Press Box, and the Indoor Football Practice Facility.
The company is headquartered in Colorado Springs, and maintains fully staffed offices in Denver and in Jackson, Wyoming. For more information, visit gejohnson.com.
# # #