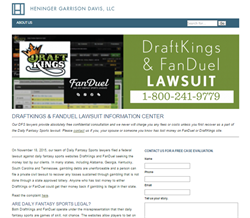 The lawsuit alleges that people who have lost money to either DraftKings or FanDuel could get their money back if gambling is illegal in their state.
Birmingham, ALA (PRWEB) December 05, 2015
Recently, our team of Daily Fantasy Sports lawyers filed federal lawsuits in Alabama, Georgia, and Tennessee (Case 2:15-cv-02083-RDP, US District Court, N.D. of Alabama, Cases 1:15-cv-03951-RWS and 1:15-cv-03950-TWT, US District Court, N.D. of Georgia, and Case 3:15-cv-01432, US District Court, M.D.Tennessee) against daily fantasy sports websites DraftKings and FanDuel seeking the money allegedly lost by our clients. In many states, including, Alabama, Georgia, Kentucky, New Mexico, South Carolina, and Tennessee, gambling debts are unenforceable and a person can file a private civil lawsuit to recover any losses sustained through gambling that is not done through a state approved lottery, according to court documents. The lawsuits allege that people who have lost money to either DraftKings or FanDuel could get their money back if gambling is illegal in their state. The lawsuits also claim that under state law family members of players that have lost money can also sue to get back those losses.
According to complaints, both DraftKings and FanDuel allegedly operate under the "misrepresentation that their daily fantasy sports are games of skill, not chance." The websites allegedly allow players to bet on fantasy sports teams, claiming it involves skill and thus attempts to get around gambling laws.
But according to court documents, in many states a scheme is considered gambling if "chance" is the dominant factor in determining the result of the game, even though the result may be affected to some degree by skill or knowledge.
The plaintiffs are represented by Lew Garrison at Heninger Garrison Davis. A team of lawyers at Garrison's firm is representing these clients on a contingency fee basis in all states for its lawsuits.
Heninger Garrison Davis would like to help those players and their families who lost money in daily fantasy leagues such as DraftKings and FanDuel. The law firm recently launched http://www.dailyfantasylawsuit.com to provide lawsuit information and a new way to contact our DraftKings lawyers and FanDuel lawyers. The website contains information about how daily fantasy sports work and general information about the class action lawsuits. Please visit http://www.dailyfantasylawsuit.com or call 1-800-241-9779 for an immediate free consultation.
About Heninger Garrison Davis LLC
Heninger Garrison Davis, LLC is a national firm of trial lawyers with offices in Atlanta, Birmingham, Los Angeles, New Jersey, New York, and D.C. Metro. While continuously recognized as one of the nation's leading trial firms, our firm represents clients in some of the most significant legal controversies playing out in courtrooms across the country. Our attorneys are recognized as some of the most qualified and skilled in their fields. They are routinely appointed by federal and state courts to serve as leaders in national litigation. Heninger Garrison Davis possesses the sophisticated legal skills, financial resources, and administrative support to take on the world's most powerful corporations.