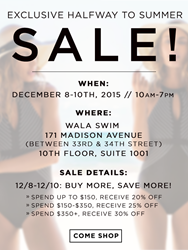 Wala is offering discounts from 20–30% off retail pricing.
NEW YORK, NEW YORK (PRWEB) December 04, 2015
Wala Swim invites customers to think warm and cash in on its "Buy More, Save More" December sale in its office located at 171 Madison Avenue, 10th floor, suite 1001.
The sale kicks off on December 8 and runs through December 10, 2015, from 10 a.m. to 7 p.m., and will highlight many of Wala Swim's most popular items including resortwear and swimwear. Wala is offering discounts from 20–30% off retail pricing. Discount brackets work as follows:

20% off for all sales up to $150
25% off for all sales from $150–$350
30% off for all sales $350 and above
The sale is valid for purchases made during a special trunk show style event, held at the Wala Swim office. This special promotion is not available online.
Swimwear from all lines, including the sexy "Not Your Mother's One Piece" line will be included. From bikinis, tankinis, and one pieces, Wala Swim offers a wide range of suits to fit a variety of bodies. The sale also includes a great selection of resortwear for perfect beach to street pieces.
About Wala Swim
Taking a unique stance on swimwear, Wala Swim is a New York based breath of fresh air in the swim and resortwear community. With the belief that perfect swimwear is the suit that looks like it was made just for you, Wala proudly presents a fit manifesto and offers both physical and fit descriptions on each of their featured items. Offering 147 of the best quality pieces available in the world at any given moment, Wala highlights trends and designers from around the globe. Paired with free shipping, returns, and home try-ons, Wala Swim puts customer service on the high dive platform. To learn more about what makes Wala Swim different from any other swimwear shopping experience you'll have, please visit http://www.walaswim.com.