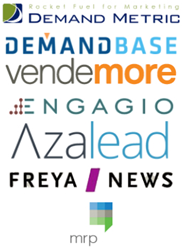 ABM adoption is occurring at a rapid clip. The critical question now is how to have the highest-performing program.
(PRWEB) December 07, 2015
The Account-Based Marketing (ABM) Consortium today announces the availability of new, primary research that helps all B2B marketers define and validate the path to high-performance Account-Based Marketing.
The ABM Consortium is a global effort to help grow the market for ABM through better definition, validation and promotion of best practices. On Tuesday, December 8, 2015, the Consortium will launch its efforts by presenting new research during a live webinar that brings C-level executives from the world's top ABM platform providers to discuss this new research and its practical application, that is the result of studying hundreds of successful ABM deployments. This new research is the first of its kind and offers marketers a measured path towards what is arguably one of the most desired new strategies in B2B marketing.
"Analyst firms, including Demand Metric, have published recent research confirming that ABM adoption is occurring at a rapid clip," states Mark Ogne, founder of the ABM Consortium and executive vice president at Demand Metric. "Today, the critical question for most B2B organizations is no longer if ABM is worthy of consideration, but how to have the highest-performing program. What's clear from our study is that ABM is not a 'check box' to complete. There are distinct considerations marketers need to prioritize in their programs, and doing so will maximize ABM's revenue impact."
The ABM Consortium will release "High Performance ABM Capabilities," a benchmark report during tomorrow's webinar. The report includes an ABM Capabilities Framework to guide users to maturity in their ABM programs by identifying best practices and maturity milestones that lead to a greater revenue impact. During the webinar, C-level executives from many of the Consortium's founding members will share the research results and their perspective on its implications.
The webinar is open to all interested parties at no cost. Those wishing to attend simply need to visit "The Definitive ABM Success Guide" webinar registration page. All registered attendees will receive a copy of the study's benchmark report.
About the ABM Consortium
The Account-Based Marketing Consortium is designed to help B2B marketers better understand and deploy high-performance ABM strategies by sharing and promoting adoption of best practices globally. The consortium's objective is to expand the successful application of this popular new practice.
To accomplish this objective, members have constructed and advocate a unique capabilities framework consisting of six components that characterize successful Account Based Marketing programs:
1) Account selection
2) Insights
3) Content
4) Orchestration
5) Targeted delivery
6) Measurement
The consortium consists of top industry thought leaders, including: Demand Metric Research Corporation, Engagio, Demandbase, Vendemore, Azalead, MRP and Freya News. For more information about the ABM Consortium, please visit: http://www.accountbased.marketing.