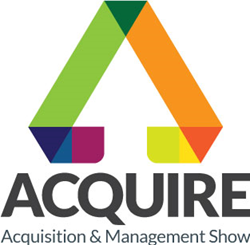 We knew from the start that building a show focused on creating a more effective and efficient acquisition and management process in government would resonate in this market and we are glad that the community agrees.
Vienna, VA (PRWEB) December 04, 2015
1105 Media, Inc. announced today that the ACQUIRE show's IT Pavilion's Platinum and Gold sponsorship levels have sold out. Sponsors include exclusive IT Pavilion Platinum sponsor Akamai Technologies and Gold sponsors Four Points Technology, LLC, Management Concepts, Pyramid Analytics, Unisys, Vision Technologies and World Wide Technology, Inc.
ACQUIRE, produced by the same teams behind the FCW, GCN, Washington Technology, Defense Systems and Federal Soup media brands, will take place June 8-9 at the Walter E. Washington Convention Center in Washington, D.C. The show will feature multiple training courses from a diverse range of government agencies, a variety of informative breakout sessions, visionary keynotes, an exhibit hall packed with vendors representing 3 specific OMB spending categories - Professional Services, Office Management and Information Technology - plus educational clinics on the show floor, book signings and much more. ACQUIRE will also feature the Happy Fed pavilion that is dedicated to helping federal employees achieve a balanced, fulfilled and happy work life.
"The sponsorship support in the IT pavilion has been overwhelming to date. We are delighted to see that our highest exhibit levels on the show floor have already sold out in the IT pavilion." said Carmel McDonagh, Chief Marketing Officer of 1105 Public Sector Media Group. "We knew from the start that building a show focused on creating a more effective and efficient acquisition and management process in government would resonate in this market and we are glad that the community agrees."
Sponsorships and booths are still available for ACQUIRE, and attendee registration will open in January 2016. Please visit: https://ACQUIREshow.com
About 1105 Public Sector Media Group
1105 Public Sector Media Group, a division of 1105 Media, Inc., provides information, insight and analysis to the Government IT and Education IT (FED/SLED) sectors. Our content platforms include print, digital, online, events and a broad spectrum of marketing services. http://1105publicsector.com
About 1105 Media, Inc.
1105 Media, Inc., is a leading provider of integrated information and media in targeted business-to-business markets, including the public sector (FED/SLED) information technology community; enterprise computing; industrial health, safety, and compliance; security; environmental protection; and home healthcare. 1105's offerings span marketing services; print and online magazines, journals, and newsletters; seminars, conferences, and trade shows; training courseware; web-based services. 1105 Media is based in Chatsworth, CA, with offices throughout the United States. https://1105media.com
###