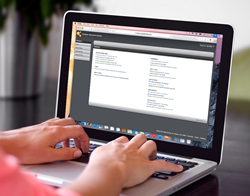 Every release is designed to improve the competitiveness of our white-label customer base.
BARCELONA, SPAIN (PRWEB) December 11, 2015
Digital Samba has released version 4.3.9 of their OnSync web conferencing system. OnSync enables users to schedule webinars, virtual classrooms or meetings. OnSync can be used in the cloud or locally hosted, with options of complete white-labeling.
"Every release is designed to improve the competitiveness of our white-label customer base" explains Robert Strobl, CMO of Digital Samba. "A key part of the Digital Samba strategy is to help server telecommunication companies and content service providers outcompete traditional web conferencing providers by pushing our solution under their own brand. No other company in the industry is able to serve their partners requirements in the same level of obsessive detail as we are. This new release is another testament to our focus."
The new version of OnSync delivers more than 70 new features, improvements and fixes. The most important are:
● New statistics dashboard for server admins
● Improved system statistics
● Auto-record of sessions
● Save whiteboard drawing and background
● New menu option to easily access previously saved polls
● Customizable lobby image and sound
● Change the registration page image and email header/footer
● Special characters allowed for email addresses
● Custom image for phone-only users
● Enhanced auditing of user/session activities
●State/province, company and emails fields on session registration page
● Unlimited chat history which can be emailed
● Improved Account Center tooltips on buttons/icons
● DST Auto-Detect
● Improved dial-in user disconnect detection
A full list of changes and new features can be seen on Digital Samba's website in the 4.3.9 release notes.
New Statistics Dashboard and Session Auto Record for Server Administrators
The new statistics dashboard increases control for server administrators by giving instant visual access to current user statistics as well as data history. It is now possible to see important live data such as used bandwidth and disk space right in the dashboard.. Sessions can now be automatically recorded by a server wide setting which can be done by server admins, "The auto-record feature is particularly popular amongst our virtual classroom server customers" explains Strobl.
Personalization of Lobby Screen and Email Template
Session organizers are now able to change the user experience of the lobby screen by uploading a custom brand image and hold music. White Label customers can now add an event photo to email header and footer in order to further tailor the look to their own brand.
About Digital Samba
Digital Samba is the leading developer of the award-winning OnSync Enterprise Server web conferencing solution. OnSync is used by customers to run large webinars, meet, present, train and demonstrate to small or large groups with unrivaled voice-over-IP and live video quality. Share files, slide presentations, desktop, & more. OnSync is entirely browser-based, cross-platform and mobile. OnSync is available for resale as a full-feature White Label Web Conferencing solution. For more information, or a live demonstration of OnSync online meetings, visit http://www.digitalsamba.com or connect with us on Twitter and Facebook.
# # #
Media Contact:
Robert Strobl
CMO
Email: rs_at_digitalsamba.com
Tel: +1 866 903 9129
Tel: +34 93 18 55 510