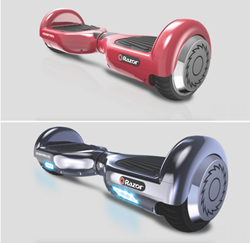 Los Angeles, California (PRWEB) December 04, 2015
Razor, the company behind the wildly popular Razor scooters, is at it again with a new, no hands, electric scooter called Razor Hovertrax™, hitting the market just in time for the holidays.
Razor only recently acquired the rights to the Hovertrax from inventor Shane Chen, whose U.S. Patent covers such two-wheel, self-balancing vehicles. Razor's company Founder and President Carlton Calvin said demand for the product already is overwhelming. "This is going to be one of the hottest gifts of the season," Calvin said. The Hovertrax will be available on-line this week at Walmart.com, Target.com, ToysRUs.com and Amazon.com, he said.
The Razor Hovertrax is a two-wheeled dual platform device that uses gyro-sensor technology to sweep riders along with a shift of their feet — forward, backward, around corners or in a 360 degree spin. Dual hub motors provide a super smooth, quiet ride for 115 minutes of fun. Knock-offs of the original Hovertrax are sometimes referred to as "hover boards" or "self-balancing scooters".
The Hovertrax uses a quick-charge lithium ion battery pack to power dual hub motors with gyro sensor technology. It is controlled by the angle of the rider's feet relative to the ground. The battery is rechargeable.
Razor has released two models, one of which will have an MSRP of $599.99 and one of $699.99. The higher performance Hovertrax DLX comes in a high-tech smoke chrome finish with blue LED lights.
As the only authorized product in the marketplace, the Hovertrax is backed by Razor's reputation as the world's largest manufacturer of electric scooters and its promise of complete customer satisfaction.
About Razor USA LLC
Based in California, USA the Razor brand embodies the spirit of fun and freedom. The company was founded in 2000 with the introduction of its now legendary kick scooter, which quickly became an essential ride for anyone on the go. Today, Razor products are available worldwide, with a full range of wheeled goods to inspire and excite riders everywhere. http://www.razor.com.
# # #