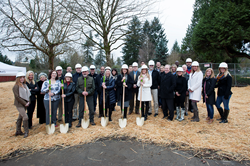 The Juanita Farmhouse Cottages open to the public this weekend with a Groundbreaking Celebration. Interested parties are encouraged to stop by the site, located at 12652 94th Ave NE, between noon and 5pm on Saturday December 5th and Sunday December 6th.
Kirkland, WA (PRWEB) December 04, 2015
The Juanita Farmhouse Cottages are a boutique new construction community of nine single family homes by local developer, Kim Saunders. Located in Kirkland's popular Juanita neighborhood, this first of its kind, in-city community represents a new age in homeownership on the Eastside. The Five-Star Green Certification sets a new standard for a small house, small footprint, eco-friendly luxury lifestyle with a shared vision of sustainability.
The efficiently-designed homes will range in size, with a maximum 1632 square feet, with each offering 3 bedrooms, 3 or 4 baths, a 1 car garage, 2 or 3 covered porches, a private fully fenced yard, a separate storage unit and a custom woodworked furniture piece fashioned from the cottage's namesake tree original to the property. In addition, each home is all-electric with geothermal heating and cooling, watersense features, hardwood floors and all-LED lighting. All cottages will share in the beautifully landscaped communal area with meandering pathways, a fire pit, trellises and benches, as well as the Community Barn designed for entertaining.
The Development Team is committed to creating innovative spaces. From broad-scale architectural, engineering, and construction projects to fine details found in landscape, interior design, and custom woodwork, the project is being developed by the following key members: Kim Saunders, Founder of Farmhouse Cottages LLC; Val Burmester, Listing Agent and Managing Broker of Realogics Sotheby's International Realty; Rick Tomkins, Vice President and Director of Engineering of Triad Associates; Kevin Dosh, Owner and Member of John Buchan Homes LLC; Mike Delile, Senior Construction Manager and Safety Director of John Buchan Homes LLC; Galen Page, Owner of Page & Beard Architects; Sandra Hasegawa Ingalls, President of Foresight Inc.; Calista Munnell, Owner of Calista Interiors; and Nathie Katzoff, Designer and Founder of NK Woodworking & Design.
"The property itself is surrounded by history, and the Juanita Farmhouse Cottages are unique in that they are situated on one of three original homesteads in Juanita," said Kim Saunders, Developer of the project. "I am passionate about these homes and look forward to being a part of this one-of-a-kind neighborhood - where living with a smaller footprint and sustainable lifestyle is complemented by larger communal spaces and a strong sense of community."
On December 2nd, the development team hosted a private groundbreaking ceremony attended by Amy Whalen, Mayor of Kirkland, and other key City Officials including Executive Director Bruce Wynn and Council Member Shelley Kloba. The project will open to the public this coming weekend with a Groundbreaking Celebration. Interested parties are encouraged to stop by the site, located at 12652 94th Ave NE, between noon and 5pm on Saturday December 5th and Sunday December 6th. In addition to providing information and attending to inquiries, the development team is offering complementary food truck faire and entry into a raffle for excellent prizes.
"I am thrilled to be representing a project that fits the needs of Kirkland/Juanita residents," said Val Burmester, listing agent with Realogics Sotheby's International Realty. "I have watched Kirkland grow tremendously over the past few years and it's exciting to see a community that will support this area in the way that the Juanita Farmhouse Cottages do."
The fee-simple cottages are being developed under zoning adopted by the City of Kirkland in November of 2007 encouraging an increase of moderately-scaled sustainable homes that garner an increased sense of community and provide diversity in what is otherwise a prevailing trend to add density. The homes align with the city's plan to support growth through sub-division, and represent an investment into the future of a diverse locale. Kirkland is the only Eastside community that offers access to the Lake Washington Waterfront and a dynamic downtown core.
Occupancy begins mid-2016 with prices from the $800s. Visit JuanitaFarmhouseCottages.com for more information.
About Realogics Sotheby's International Realty (http://www.RSIR.com) - Artfully uniting extraordinary homes with extraordinary lives, Realogics Sotheby's International Realty is a leading global sales and marketing brokerage firm in the Pacific Northwest. Recognized by the Puget Sound Business Journal amongst the fastest-growing private companies in Washington State for 2012, 2013 and 2014, the boutique real estate firm of 120+ brokers consistently ranks among the top producing firms within the markets that it serves with branches in downtown Seattle, Bainbridge Island, Kirkland and Issaquah.