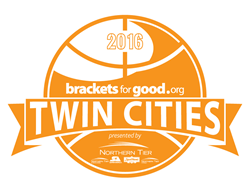 In its inaugural year in the tournament, the Twin Cities will be a competitor for the city raising the most money and attracting the most new donors for its nonprofits
Minneapolis, MN (PRWEB) December 07, 2015
Calling all Twin Cities nonprofits: Charitable organization Brackets For Good challenges your organization to friendly competition and a chance to win $10,000!
Indianapolis-based Brackets For Good hosts online, bracket-style fundraising tournaments every March in communities around the United States. Participating nonprofits compete to out-fundraise their opponents, earn increased exposure, and keep 100 percent of donations received during tournament play.
Since Brackets For Good's kickoff contest in 2012, it has raised more than $1.3 million for local charities. Due to the overwhelming success, the tournaments have since expanded from Indianapolis to Louisville and will break into several other markets in 2016, including Ann Arbor, St. Louis, and Minneapolis.
To participate, charities should register free at http://twincities.bfg.org by Dec. 31, 2015. Already registered are ClearCause Foundation, Defending the Blue Line, Erik's Ranch and Retreats, Folds of Honor Foundation, Friends in Need Food Shelf, Immigrant Law Center of Minnesota, Special Olympics Minnesota, and Ujamaa Place.
"Supporting Brackets For Good is a way for us to have an impact on a multitude of nonprofits in the Twin Cities," said Matt Sieh, Food Service Manager, SuperAmerica of presenting sponsor Northern Tier Family of Businesses. "We're grateful to be able to touch so many lives in such a fun way."
The Twin Cities has an entrepreneurial spirit in its rich culture of philanthropy, both individually and through the corporate/foundation sectors.
"We're thrilled to be invited into such a philanthropic community that is truly pioneering online giving in many different ways," co-founder Matt McIntyre said. "In its inaugural year in the tournament, the Twin Cities will be a competitor for the city raising the most money and attracting the most new donors for its nonprofits."
Besides bringing in money for local charities, the tournament will introduce residents of the Twin Cities to nonprofits in their own backyards.
"We hope more individuals are inspired to support our wonderful nonprofit organizations here in Minnesota," said Jeremy Wells, Vice President of Philanthropic Services at divisional sponsor The Minnesota Community Foundation.
For more information, visit http://twincities.bfg.org/.
About BRACKETS FOR GOOD
Brackets For Good is an Indianapolis, IN based 501(c)3 charitable organization focused on activating new donors, and increasing awareness for other nonprofit organizations through competitive, online fundraising at no cost.
Media contact:
Jaymie Shook
317.602.7137 ext. 2066
jshook(at)bohlsengroup(dot)com