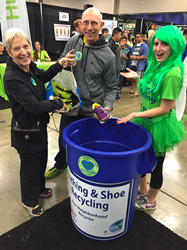 San Antonio, TX (PRWEB) December 04, 2015
As the eighth annual Humana Rock 'n' Roll San Antonio Marathon & 1/2 kicks off this weekend, approximately 23,000 marathoners are gearing up to sprint through downtown Alamo City and will be discarding hundreds of pounds of warm up layers along the way.
American Textile Recycling Service (ATRS) will be on hand, celebrating four years of a unique recycling partnership with Competitor Group. The ROCK RUN RECYCLE Campaign, which helps marathoners responsibly donate their unwanted running gear, first started at the San Antonio Marathon in December 2012 and is now active at seven Rock 'n' Roll tour stops nationwide.
In keeping with this tradition, American Textile Recycling Service will provide Clothing & Shoe Recycling bins onsite at the Health & Fitness Expo on Friday and Saturday. Runners and their friends and family are encouraged to stop by Booth #414 to donate gently used, out of season, unwanted running gear and shoes. Even if sneakers or active wear are no longer suitable for the course, these items are still desirable and will be redistributed to families in need.
The ATRS Recycling Fairies will be at the Expo to meet and greet attendees with green swag and stickers. Visitors can stop by to take a selfie with these eco advocates and learn more about making textile recycling a regular habit.
ATRS will also be on the course running through Alamo City early on Sunday morning to collect discarded warmup gear, clothing and shoes for charitable recycling. Every donation on Race Day and at the Expo raises funding for Center on Independent Living (COIL), a local ATRS nonprofit partner that focuses on helping people with disabilities achieve freedom and independence while thriving in their community.
Through this sustainably minded partnership with Competitor Group, ATRS aims to educate local runners and marathon participants about the importance of recycling unwanted garments at running events and diverting textiles from local landfill. The Health and Fitness Expo is a great opportunity to engage health-minded and environmentally conscious community members and share this philanthropic, sustainable message with a wide audience. Marathoners and San Antonio residents can support COIL even after the race is over. Simply visit the ATRS website or call the 24-Hr Hotline 866-900-9308 to locate the nearest donation bin.
About American Textile Recycling Service
American Textile Recycling Service (ATRS) is the nation's fastest growing textile recycler and an official recycling partner of Rock 'n' Roll Marathon. Its socially responsible business model provides free textile recycling solutions for the public, job stimulation worldwide and much-needed funding for worthy local charities. Easy, convenient ATRS Recyclers are available throughout Colorado, Texas, Florida, Michigan, Tennessee, Atlanta, Oklahoma, Arizona, Indiana and Southern California. ATRS is committed to keeping textile waste from local landfills and promoting a greener tomorrow. For press inquires contact pr (at) atrsonline (dot)com.