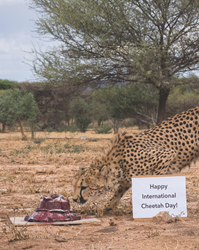 Cheetahs are greatly endangered, but if people act now we can save them from extinction -- Dr. Laurie Marker, Cheetah Conservation Fund.
Washington, D.C. (PRWEB) December 04, 2015
Cheetah Conservation Fund (CCF) is leading the fifth annual observance of International Cheetah Day on Dec. 4, 2015, by calling on people of all ages and nations to celebrate the world's fastest feline. This special occasion is designed to educate young learners about the species, its plight, and inspire people of all ages to get involved with conservation efforts.
CCF is offering 10 suggestions for ways people can to celebrate International Cheetah Day:
1. Become a wildlife ambassador. Tell your friends and family about the cheetah.
2. Visit http://www.internationalcheetahday.org and sign up to host a cheetah event. Check out what other people around the world are doing to mark the occasion.
3. Swap your online profile photo for a picture of a cheetah. Free downloadable photos are available on the International Cheetah Day website.
4. Join the conversation on Twitter by using the hashtags, #SaveTheCheetah and #IntlCheetahDay.
5. Download our Conservation Passport designed by CCF education specialists in Namibia. Print your very own Certificate of Cheetah Achievement when you complete your passport application.
6. Watch and share a special International Cheetah Day video message from Jeff Corwin.
7. Just for kids (or maybe not): download our template to make your own way-cool cheetah mask. It's fun to impersonate a cheetah! Post a photo of yourself and your cheetah mask to CCF's Facebook page (mask included in the Cheetah Activity Packet).
8. Text a $10 donation to CCF by texting the word "Cheetah" to 27722.
9. Get some stylish cheetah gear from the CCF Store at Café Press, so you can spark conversation about the cheetah all year 'round.
10. Sponsor or "adopt" a resident cheetah from CCF's sanctuary.
The cheetah is not only the fastest, but it is also the oldest and sadly, Africa's most endangered big cat. It has survived more than three million years through the Ice Age and a genetic bottleneck, only to have its numbers decimated by almost 90 percent in the last 100 years. With fewer than 10,000 animals remaining in the wild, the cheetah population is at great risk of extinction.
"International Cheetah Day serves to remind us that the cheetah, like all wildlife, is a treasure of our planet and its survival depends on human conservation action," said Dr. Marker, Founder and Executive Director of CCF. "Celebrating International Cheetah Day is a way to remind ourselves of this duty."
CCF's Conservation Passport, Activity Packet, cheetah photos, videos and social media links can be downloaded for free at http://www.cheetah.org/international-cheetah-day/ or http://www.internationalcheetahday.org