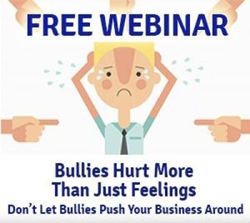 Employment Background Investigations (EBI) presents an online event tackling the growing problem of bullying in today's workplace with expert Catherine Mattice of Civility Partners.
(PRWEB) December 05, 2015
Bullying is one of the most common causes for job dissatisfaction in today's workplace, and more employers are making an effort to eradicate this kind of behavior. Ms. Mattice will teach attendees how to define the problem and how to differentiate bullying from harassment. She will also give concrete suggestions on how to convince your organization's leaders that this is an important issue, as well as giving you advice on creating a sustainable culture change.
The webinar will take place on Wednesday December 9th at 1PM EST and is free to attend. You can find out how to register by clicking here.
About Employment Background Investigations:
Employment Background Investigations is a technology driven leader in domestic and global pre-employment background checks, drug testing, occupational health screening and I-9 compliance. We specialize in development, implementation and management of customized employment screening programs for large and multi-national clients. We are dedicated to information security. EBI is the only NAPBS Accredited background screening company in the world to hold both an ISO 27001:2013 certification for information security and an ISO 9001:2008 certification for Quality Management.
About Catherine Mattice:
Author Catherine Mattice is partnering with EBI as we launch an assault on workplace bullying. Catherine is the co-author of the book BACK OFF! Your Kick-A$$ Guide to Ending Bullying at Work, a comprehensive guide on dealing with bullying in the workplace. She is a founding member of the National Workplace Coalition and college professor in San Diego, California.