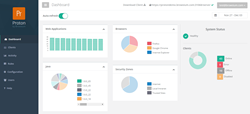 Enterprise IT needs an easy-to-use solution optimized to deliver a deep understanding of enterprise web application environments.
Redmond, WA (PRWEB) December 07, 2015
Browsium Inc. today released Browsium Proton, a comprehensive web application inventory and analytics solution for enterprise. Proton, the latest component in Browsium's browser management platform, provides IT teams with a deep understanding of web applications, add-ons, and browsers in use across the enterprise. With this data, organizations can quickly make informed decisions and head off compatibility and security issues before they become serious problems.
While most line-of-business applications in enterprise today run in a browser, IT lacks the comprehensive tools to track and manage these complex browser-based application environments. In addition, to know what's being used, it's critical to understand the dependencies between applications, browsers and components. Without this insight, they're open to security risks, blocked or stalled migrations, compatibility issues, and under/over-utilizing software licenses.
"We often hear from our customers that they simply don't know what web applications and browsers are being used across their organizations," said Matt Heller, Browsium Founder. "Enterprise IT needs an easy-to-use solution optimized to deliver a deep understanding of enterprise web application environments. Based on the response from customers, we're confident Browsium Proton is that solution."
Proton goes beyond simply providing raw usage data, delivering comprehensive inventory and analytics presented in easy-to-understand tables and charts. This allows IT teams to discover the critical correlations in their browser-based application environment and, in turn, make better decisions. With near real-time data at their fingertips, enterprise IT has immediate access to insights that help them deliver a high level of service across the organization.
Proton delivers tangible business value across many scenarios, including:
Migrating Browsers – Proton inventories all web applications, along with client browser environment data, and presents it in a graphical dashboard. Granular-level data, with line-item detail, helps identify and unblock web application compatibility issues.
Maintaining and Optimizing Client Systems – With Proton, IT teams make better business decisions because they have a near real-time view of their web application environment, ensuring their mission critical web applications run smoothly during frequent OS, browser, and Java patching cycles.
Proactively Heading Off Security Risks – Proton reduces attack surfaces by enabling IT to correlate and manage applications, add-ons, and browser settings. It identifies unused applications and browser add-ons, such as older versions of Java and ActiveX controls, reducing the potential for security exposure.
Improving Employee Productivity – Proton provides business management with the knowledge and insights to drive productive behavior and reduce web distractions among employees. It helps identify and correct hotspots before they affect the company's bottom line.
Driving Transformational IT Projects – Proton's comprehensive, rich data and valuable analytics can be used as planning data by IT leaders. A better understanding of their increasingly complex web application environment helps successful planning of future technology initiatives.
Pricing and Availability
Proton pricing is based on the number of employees in an organization; for a quote or to schedule an online product orientation, contact sales@browsium.com. Proton is available now, with a free, downloadable Evaluation Kit at http://www.browsium.com/proton/eval. For more information, visit http://www.browsium.com.
About Browsium
Browsium is the leading browser management platform provider for the world's largest enterprises. Built by a team of experts in enterprise web technology who bring years of browser experience at Microsoft to today's dynamic IT environments, the company's mission is to enable organizations to cost-effectively manage and secure web browsers and web applications at a global scale. More information about Browsium is available at http://www.browsium.com.