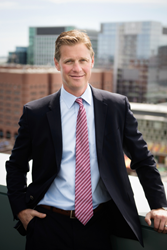 Whether it's gender, age or the economy, equality and inclusion ultimately improves shareholder value
Boston, Mass. (PRWEB) December 04, 2015
Sperry Van Ness International Corporation (SVNIC), a full-service commercial real estate franchisor of the SVN® brand, announced today that President and CEO Kevin Maggiacomo will be speaking at the invitation-only conference Closing the Gap in Palm Beach, Florida, from December 6-8.
Maggiacomo, who was recently named among Commercial Property Executive's 2015 Executives of the Year, is joining other leaders in business, education, policy, foundations and communities to participate in a think-tank environment to explore solutions for a more inclusive economy. During the two-day event the group will work together to share new ideas with the goal of defining strategies for closing the gap in the American economy.
No stranger to working towards equality, Maggiacomo serves as the leader of the 50/50 by 2020 campaign where he advocates for gender balance in corporate leadership. This campaign aims to establish a 50/50 mix of men and women within leadership roles by the year 2020. Most recently he testified at the Massachusetts State House in support of Bill S1007: Resolutions to encourage equitable and diverse gender representation on the boards of companies in the Commonwealth.
"Whether it's gender, age or the economy, equality and inclusion ultimately improves shareholder value," says Maggiacomo. "By participating in Closing the Gap I hope to not only share my ideas towards new economic policy changes, but walk away with invaluable insight from other progressive leadership that I can bring back and implement here at SVN."
For full agenda and information on Closing the Gap, visit https://www.closingthegap.co/.
To learn more about SVN®, visit http://www.svn.com.
About SVN®
Sperry Van Ness International Corp., a full-service commercial real estate franchisor of the SVN® brand, is one of the industry's most recognized names based on the annual Lipsey Top Brand Survey. With nearly 200 locations serving 500 markets, SVN provide sales, leasing, and property management services to more than 5,500 clients worldwide. SVN Advisors also represent clients in auction services, charter schools, corporate real estate, distressed properties, golf & resort, hospitality, industrial, investment services, land, medical, multifamily, office, retail, self-storage, single tenant investments. All SVN offices are independently owned and operated. For more information, visit http://www.svn.com.
###