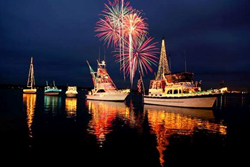 Look for a showcase of the best traits of our little town—the most beautiful waterfront park in the region and a community that comes together like family.
Kalama, Washington (PRWEB) December 04, 2015
Holiday cheer sails right through Kalama this December as the Kalama Chamber of Commerce welcomes a stunning holiday boat parade produced by the Dolphin Yacht Club. The first annual Festival of Lighted Boats takes place at the Port of Kalama's Marine Park Saturday, December 12, 5 p.m. to 9 p.m., and promises holiday fun for the entire family with music and caroling, festive food and drink and crafts. The Lighted Boat Parade will last about an hour to an hour and a half and is expected to start at 6:30 p.m.
"We believe Kalama's first-ever holiday boat parade will showcase some of the best traits of our little town—the most beautiful waterfront park in the region and a community that comes together like family," says event organizer, Taryn Nelson, president of the Kalama Chamber. "The Festival of Lighted Boats is sure to cheer families around the region."
The Dolphin Yacht Club, which participates in a holiday boat parade in Camas/Washougal, eyes the Kalama's Marine Park as an ideal setting to launch the popular family event.
"The yacht club approached the Chamber about a partnership to add on-the-ground activities and entertainment which we believe will attract a new audience to Kalama's core," says Nelson.
Families who join in the fun will find a cheery holiday celebration including:

Narrated Lighted Boat Parade
Live music (Kalama and Woodland High School Choirs & elementary school performances)
Santa Photo Booth
Warm beverages
Chili, nachos, caramel corn
Holiday crafts and more
Opportunity for company parties and group celebrations
The Dolphin Yacht Club is offering VIP packages for groups, company holiday parties and organizations who may want their own covered area from which to view the parade. Packages include some extras like riding on the boats as they parade, up close viewing from the park boardwalk and more. For more event information contact Jeanette Creagan at 360.772.5706.
The Chamber is also accepting sponsor donations for the first annual event. Those interested should contact Diana Downing at 360.430.5676.
About Port of Kalama – Where rail and water meet:
The Port of Kalama is located in Southwest Washington on the Columbia River and immediately off of Interstate Highway 5. The port exists to induce capital investment in an environmentally responsible manner to create jobs and to enhance public recreational opportunities. Port of Kalama's industrial area includes five miles of riverfront property adjacent to the 43' federally-maintained deep draft navigation channel of the Columbia River. The Port is served by the Burlington Northern/Santa Fe and Union Pacific railroads. There are over 30 businesses located at the Port of Kalama, employing over 850 people. Port of Kalama offers all the superior facilities businesses need to thrive, and an unsurpassed quality of life. The port offers shovel ready sites, a new Industrial Park, state of the art Marine Terminals and transportation accessibility to rail and highway all just a 30 minute drive to the Portland International Airport. Port of Kalama also offers high-bandwidth communications, with dual access fiber-optic service to Seattle and Portland. Properties currently available at the port for businesses wishing to expand and thrive: Visit http://portofkalama.com/available-properties/.
Contact: Liz Newman, marketing manager, Port of Kalama, 360-673-2379 or Claudia Johnson, PR, 503-799-2220.