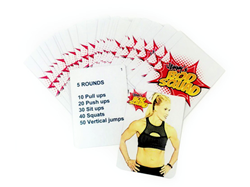 "Whether you're a weekend fitness warrior or you're constantly trying to juggle work and family with staying in shape, these cards are for you!"
Salt Lake City, UT (PRWEB) December 07, 2015
Jenny Larsen, personal fitness trainer, fitness instructor, nutrition coach, and founder of Jenny's Bod Squad, announced today the debut of "Bod Squad On Deck", a portable card deck featuring 30 exercise combinations intended to challenge the body and blast metabolism. Bod Squad on Deck makes it easy for anyone to simply pick a card and start their body moving.
One of the foundations of health and fitness is a distinct emphasis on consistently challenging oneself and Jenny's Bod Squad on Deck does exactly that. These individual at-home/travel workout fitness cards take the guesswork out of what to do in a workout on any given day. "Whether you're a weekend fitness warrior or you're constantly trying to juggle work and family with staying in shape, these cards are for you! Simply pick a card, crank up the music from the included play lists and challenge yourself with a new and intense workout everyday!" said Jenny Larsen, founder of Jenny's Bod Squad.
Each complete workout varies in length from 10 to 30 minutes depending on how hard one wants to push themselves. They're designed to shock the body, boost metabolism and make every workout feel new and fresh.
Product Name: Jenny's "Bod Squad On Deck"
Suggested Retail Price: $17 Includes free Shipping within the continental US
FOB: Salt Lake City, Utah.
Features:

30 complete exercises
Takes the guess work out of your workout
Designed to blast your metabolism in a shorter amount of time
Convenient card deck for people on the go
To learn more or how to order Bod Squad On Deck visit Jenny's newly designed website http://www.jennysbodsquad.com that features enhanced fitness content with access to the full spectrum of social and media devices. Users can quickly navigate page headers such as BODTV, which provides easy to follow video demos of Jenny-specific exercises and functional movements. And, of course YUMMYBOD is a must visit page providing tips on nutrition, eating consciously, and easy to prepare recipe ideas.
About Jenny's Bod Squad: With over 20 years of experience in the fitness and nutrition world, Jenny Larsen philosophy isn't about any "one" exercise program. It's a way of living a healthy lifestyle that encompasses a multitude of fitness styles and nutritional dieting specifically designed to meet personal fitness goals.
Contact:
Jenny's Bod Squad
Tel. 801-860-2418
eMail jenny(at)jennysbodsquad(dot)com