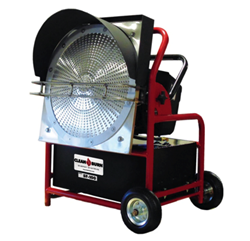 Janesville, WI (PRWEB) December 08, 2015
The SunFire100 is UL listed, is made in the USA, has a quiet operation, and is odorless and smokeless.The rugged all steel frame allows the SunFire100 to be used in a variety of work spaces and situations including, but not limited to, automotive repair, construction sites, excavation, agricultural applications, sporting events, personal shops and camps.
"We recognized a need in the marketplace for an American made portable heater that delivers the quality and durability that Clean Burn is known for, while broadening our lineup of products", said Jeff Townsend, President of Clean Burn when asked why Clean Burn decided to build a heater that doesn't burn used oil like their existing product lines.
About Clean Burn
Clean Burn manufactures used oil furnaces and boilers and distributes its products through the largest and strongest distribution network in the world. Engineered to burn used motor oils generated by cars, trucks, heavy equipment and other vehicles, Clean Burn used oil furnaces and boilers are manufactured in the United States and can transform waste oil into free heat.
Clean Burn holds numerous industry certifications and works with the U.S. government, the Environmental Protection Agency and various associations to help coordinate the establishment of standards and regulations related to energy recovery and recycling efforts involving used motor oils.