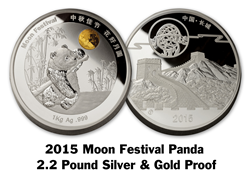 This is the largest and most exciting Panda Silver & Gold Commemorative Proof ever issued. It celebrates over 3,000 years of Chinese culture, while also having a strong American and international connection, thanks
Minneapolis, MN (PRWEB) December 07, 2015
In the mid-1980s, NASA sent six large plates of 24 karat gold into space aboard the Space Shuttle Challenger. The gold, along with other types of metal and materials, was installed outside of the International Space Station to measure the effects of exposure to the severe condition of outer space, including potentially dangerous meteorites. This "space gold" remained in orbit for 69 months—over 5 1/2 years in outer space. During that time, this gold traveled over 625 million miles around the earth. In the early 1990s, the NASA brought the gold back to earth, where it was studied intensely for over 25 years.
The gold was never intended to be made available to collectors. But recently, these same gold plates which had reflected the moon daily for over five years in orbit were brought to auction by the government. GovMint.com secured this gold—arguably some of the rarest gold in history—and then partnered with the China Mint with one sole purpose in mind: To create a record-setting new 2015 Moon Festival Panda 2.2 Pound Silver & Gold Proof. Each commemorative proof contains 2.2 pounds of 99.9% pure silver accented with a tenth-ounce of 24 karat space gold. It is struck to a massive 100 mm diameter (nearly 4" wide). Space gold is some of the rarest gold in existence, and there was only enough recovered from orbit for China to create 2,000 proofs for the entire world.
Why the Moon Festival? The Moon Festival is the second largest holiday celebration in China, second only to Chinese New Year. To honor the 3,000-year tradition of the Moon Festival, China knew there could be no better choice than gold which had traveled closer to the moon than any other gold in existence.
"This is the largest and most exciting Panda Silver & Gold Commemorative Proof ever issued," said Bill Gale, founder of GovMint.com. "It celebrates over 3,000 years of Chinese culture, while also having a strong American and international connection, thanks to the innovative use of the ultra-rare space gold. We are honored to have parbe named by the China Mint as the exclusive worldwide distributor for the 2015 Moon Festival 2.2 Pound Silver & Gold Proof."
About GovMint.com®
Since 1984, GovMint.com has been one of the world's leading sources of collectible coins. Headquartered in Minneapolis, MN, GovMint.com is an official distributor for seven major world mints and offers collectible coins from over 120 countries. GovMint.com has four offices in the U.S. More information at http://www.GovMint.com or call 800-642-9160.