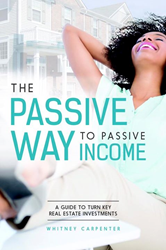 Carpenter said, "I believe in helping others in any way I can so I wrote a book that could be used as a daily tool to support others with their real estate investments."
Hagerstown, MD (PRWEB) December 04, 2015
Whitney Carpenter learned about the trials and tribulations of investing in real estate through personal experience, networking, and educating herself. She is now ready to lend her expertise to the world with the launch of her first book The Passive Way to Passive Income. The author said, "I believe in helping others in any way I can so I wrote a book that could be used as a daily tool to guide others with their real estate investments." Carpenter will be officially launching the book on December 10, 2015.
The author invites the public to meet her during the after party of the book launch December 10th at 6 pm. Hosted at Hagerstown MD's Bulls and Bears, all are invited for refreshments, a book signing and viewing of the trailer of their upcoming show, Real Family Business.
About the author: Since 2008, she has been involved in real estate. Carpenter's expertise in real estate not only benefited her personally but also supported her family in ways she could never imagine. The author who once struggled to get through high school and low paying jobs has now fought her way out of poverty to become a savvy businesswoman. Carpenter said, "This business is tough but if you are ambitious and willing to work, it will all pay off."
The Passive Way to Passive Income shares Carpenter's career experience and passion. Captured through a narrative exploration of her journey to success, Carpenter gives insight on how networking and hard work helped boost her comprehension and love for the business. "I soaked up every bit of information like a sponge on a puddle of water." The book details how to procure capital, loans and find the best properties to renovate and stay within budget to manage rental properties, Carpenter empowers potential real estate investors to make wise purchases and enjoy the process.
Carpenter said, "My goal was to create an investment opportunity where there was as little guesswork as possible with the transaction. I wanted my buyers to experience a product that was cash-flowing with the right kind of renovation for the right amount of income. In this book, I want to teach you how to identify a deal and what to look for in it."
For more information about A Passive Way to Passive Income or about the author log onto http://www.whitneycarpenterauthor.com.
###