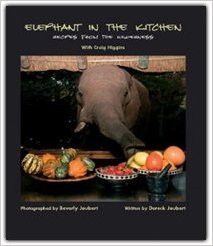 My food is heavily influenced by African spices, which are known for their intense flavour. Find your favourite combination in one of my African-inspired recipes and bring the flavours of the region into your own home.
(PRWEB UK) 8 December 2015
To mark his new African adventure celebrity chef Craig Higgins is inviting all the readers of his latest cookery book 'Elephant In the Kitchen' to send them their own photos of meals they prepared using his recipes. The best will have the chance to take part in a one-on-one cooking class from the man himself. Entrants can try their hand at preparing any of his African style dishes from Gourmet Ostrich Burgers with bush tomato chutney to Babotie Spring Rolls with mango chilli salsa.
'Elephant in the Kitchen', a cookbook/storybook/ photo journal, was produced by Craig Higgins chef together with Beverly and Dereck Joubert who are both National Geographic photographers. The book shares some of his exotic Mombo African-inspired recipes, interspersed with anecdotes, stories of the bush, descriptions of Mombo Camp and photography that immerses you in the whole experience. If you want to take part and you haven't read the book, selected recipes are now available on the Craig Higgins chef blog. Everyone can take part in his exciting African European fusion cooking competition and push themselves out of their cooking comfort zones.
When their meal is ready entrants may take up to three photos of it and email them to Craig, who will judge the competition. The competition email address is on the Craig Higgins Chef website contact section. The competition will close at the end of December and the winner will be selected on New Year's Day 2016.
You don't have to be a professional chef to enter either, and all ability levels are welcome and dishes will be judged on effort an attention to detail! If you have aspirations to become a celebrity chef like Craig Higgins then winning a personal master class in African fusion cooking will surely help boost your career. His specific focus on certain flavours and his inspiration for his dishes are unique and the winner will have a great insight into new tastes that few have yet experienced. Craig Higgins is also an expert in training chefs, and has trained Kenyan chefs in the Masai Mara. He has been featured in ITV's 'Safari Kitchen'. 'Safari Kitchen' is a documentary and cooking series filmed in East Africa.
Craig Higgins will be on an African adventure with local chefs early December 2015 exploring the unique bush ingredients and super foods of the African tribes where he will use and inspire new and exciting recipes adapted to suit the European palate. Travelling through the most remote bush in the savanna in search of medicinal and wild plants and foraging for some of the most unusual ingredients in the world. Send in your best efforts make his recipes part of your own cooking adventure.