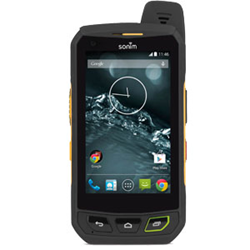 "Our unmatched three-year comprehensive warranty proves how much we believe in our product"
Chandler, Arizona (PRWEB) December 08, 2015
Group Mobile, well known for carrying the top brands in rugged computers, has added Sonim's XP6 and XP7 LTE ultra-rugged smartphones to its product line with the XP6 and the XP7 now available this month.
The XP6 and XP7 are incredibly tough, designed specifically for industrial workers in demanding and hazardous environments. These devices have been rigorously tested to hold up to Sonim's Rugged Performance Standards, which exceed MIL-STD ratings, and include: an extra loud speaker; noise cancellation; extra long-life battery allowing up to 40 hours of uninterrupted talk-time; dust and waterproof; and resistant to extreme temperatures, punctures and drops up to six feet on concrete. The touch screen is work glove friendly and easy to view in direct sunlight. Sonim also offers an unmatched 3-year comprehensive warranty on all of its products that includes coverage for accidental damage.
In addition to the features above, both devices are designed to integrate with worker safety and productivity applications. The XP7 has 1GB of RAM and 12GB available storage and while the XP6 has 1GB of RAM and 8GB of internal storage. The XP6 also has a numeric keypad.
"Our unmatched three-year comprehensive warranty proves how much we believe in our product,"said Carl L. Nerup, general manager of Regulated Markets for Sonim. "Individuals with extreme outdoor lifestyles choose to rely on Sonim ultra-rugged devices endorsed by professionals in the most demanding environments. In addition to being the optimal smartphone for those working in harsh conditions, the XP7 is also the perfect device for weekend warriors who play in 'extreme' environments. Adventurous explorers and thrill seekers now have access to a smartphone as fearless as they are. We expect extreme selfies to be taken to a whole new level."
To get the most out of the XP devices, Group Mobile also offers Sonim ultra-rugged accessories including Bluetooth headsets, extra battery packs, attachable laser barcode scanners and more.
For more information, visit buysonim.com.
About Group Mobile
Headquartered in Phoenix, AZ, Group Mobile serves customers all over North America. Customers range from Fortune 500 companies and the U.S. Military, to local police/fire/ambulance, to small and mid-size businesses, to the frequent traveler that needs something more durable than a commercial, off-the-shelf computer. Group Mobile carries all the leading rugged computing brands. In addition, Group Mobile offers vehicle docking and mounting equipment from Gamber Johnson, Ram Mounts, Jotto Desk, and Havis/Ledco. To learn more about rugged computers and how they differ from commercial, indoor computers, check out the Rugged Computer Guide or visit us online at buysonim.com.