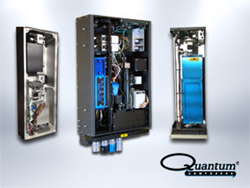 customers love that the modular design is much easier to maintain and significantly decreases down-time
Bozeman, Montana (PRWEB) December 09, 2015
Quantum Composers, a leading manufacturer of diode pumped solid state lasers and laser technology, announces the addition of a full line of complete laser micro-machining heads for semiconductor applications. These systems will feature an integrated DPSS Jewel ND:Yag laser, a uni-body all-in-one form factor, and a robust mechanical and optical design for manufacturing and repair applications. The engineers at Quantum Composers have over 20 years' experience in the custom development of laser technology for specific processes and are excited to bring this technology to a more widespread audience. The three models of micro-machining heads are diverse enough to adjust to a variety of applications including: Ablation, semiconductor FA, TFT/LCD, CF and Cell/LCM, and OLED repair.
The systems were designed to offer the most flexible technology, featuring dual or multi-wavelengths, independent or dual attenuation, and fixed or adjustable polarization. Other capabilities were aimed at reducing downtime by including swappable resonators and diodes with minimal alignment or adjusting. Eric Chang, of HLEO Asia, says that "customers love that the modular design is much easier to maintain and significantly decreases down-time". Users will also be able to utilize self-diagnosing software to check the systems functioning from the lab or even from a remote location using the Bluetooth networking option. Users will be able to take the guesswork out of creating their own system with an assortment of components, which will save valuable time and increase the stability and capability of the overall system.
The new line of laser micro-machining heads were designed for semiconductor applications, defect removal, and line cutting, the team at Quantum Composers is also offering fully custom solutions from their team of design engineers to fit the needs of any application or project. With expertise in custom design and OEM/ODM support capabilities, our engineers can minimize internal costs, time, and mitigate overall risk.
About Quantum Composers:
Quantum Composers was founded in 1993 in Bozeman, Montana, an already accelerating high tech center for electro-optic startups. Over the last 20 years, Quantum has become an internationally recognized pioneer in the electro-optics marketplace with the design and development of a precision pulse generator line and as a provider of custom laser systems for micro-machining applications.