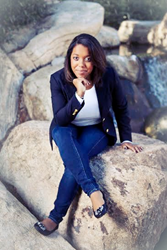 Just because someone can afford to spend $5,000 this holiday season doesn't mean they should, or have to.
(PRWEB) December 17, 2015
At the age of 27, Nicky Peterkin is a finance queen. Although at first glance many might brush her off as just another millennial falling into traditional stereotypes, Peterkin is far more than that, she is an expert in her field. "Year after year, every January, there always seem to be a few people who come to me with financial resolutions that seem impossible given their seasonal damage. Their huge credit card bills and a whole lot of guilt leave them ill equipped to start the year on the right foot financially. Surprisingly, when I dig a little deeper what I usually find is that the guilt and debt could have been prevented with a little bit of planning." Nicky says.
It doesn't take a financial expert to know that as the falling leafs turn into falling snow flakes, other changes are happening too, particularly to people's wallets. In her newest blog post, titled 'Critical Financial Tips for Saving Money during the Holidays' Nicky covers the three basic rules to spending less this season.
1) Setting a budget for all expenditures. – The importance of being realistic and firm.
2) Making lists and checking them twice. – Why disorganization leads to overspending.
3) When in doubt, check it out. – How shopping around helps to save.
Nicky hopes by applying these quick and easy tips, that shoppers will find another reason to celebrate this holiday season. "It's easy to say that money and presents and parties aren't what the season is about, but if we're honest those things help create some pretty amazing memories. The key is, to strike a balance. To come up with a plan that allows someone to have all the best of the holidays with none of the remorse." Says Peterkin.
In her upcoming book, "If You Love Your Family, Save Like It" Nicky tackles saving further, and notes that while most people say they love their family, are they sure that they really do? It's a hard pill to swallow, but if people don't have a plan for the future, if they're not putting money away for the things that matter most, then the reality is they may not love their family as much as they think they do. It's time for more people to put their money where their mouths are. Literally. Peterkin asks readers to imagine knowing for certain when and how their financial goals will be achieved. Imagine having a plan to build true wealth – while not feeling guilty about how they spend the rest of their money. Imagine being able to work half as hard at the money game while having twice as much to show for it. In this book reader's will learn exactly why the conventional wisdom everyone knows doesn't work anymore and how to create a strategy for money so anyone can achieve their desired lifestyle both today and in the future.
For more information on Nicky, and for anyone looking to have their fruitcake and eat it too, please visit: http://nicolepeterkin.com/
Media inquiries: Shannon Lutz (702)912-2405 Shannon(at)NextCenturyPublishing(dot)com