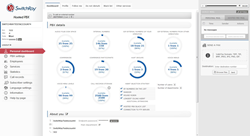 Our highest priority is to help our customer's businesses become more effective by providing access to real-time, current and consistent information," stated Steve Petilli, CEO & President, SwitchRay Inc.
Mission Viejo, CA (PRWEB) December 08, 2015
SwitchRay is pleased to announce a flexible user-friendly Web Portal solution, providing powerful and effective hosted PBX management.
Users will benefit from a powerful yet easy-to-use interface to manage the most popular services within a hosted PBX. Services include voice menus, hunt groups, fax-to-email, virtual chat rooms, call recording and voice mail, enabling users to better communicate and connect. The Class 5 softswitch (SwitchRay's SR-S5000 Version 1.9.0 and higher) integrates easily with a carrier's billing system and allows end users to manage their hosted PBX, rate plan changes and paid options, without the hassle of contacting a service provider.
Web portal users can enjoy a variety of access levels:

Hosted PBX administrator: PBX initial configuration, PBX system services setup and management and user account creation
Head of Department: access call records for all employees in his/her department, can manage Hunt group associated with the department
Employee: control his/her own call records, turn on/off personal services (Do Not Disturb, black/white lists, Follow Me, voice mail), manage personal data
SwitchRay's Web portal also provides statistics for all incoming and outgoing calls and an event log with a history of all users' action inside the web portal. Another great advantage is its easy on-line management and intuitive interface for both administrators and users. The high capacity "one-click" system allows a quick response to user commands and can be customized with a customer's logo and branding.
"Our new user-friendly web-portal takes business operations to a whole new level," commented Steve Petilli, President & CEO of SwitchRay. "Our highest priority is to help our customer's businesses become more effective by streamlining data, unifying access and integrating applications to support the business processes, as well as provide access to real-time, current and consistent information."
About SwitchRay Inc.
SwitchRay Inc. delivers state-of-the-art communication service platforms to telecom carriers worldwide. Their mission is to provide highly reliable and scalable products that are rich in functionality, allowing its customers to build successful businesses by increasing their profits and lowering their total cost of operations. With its keen attention to detail and unwavering commitment to exceptional customer service, SwitchRay optimizes communication and builds a brighter future for the world to connect. Headquartered in California and founded in 2012, SwitchRay acquired the products previously marketed and sold by Aloe Systems and Mera, enhancing the products with additional features and functionality. For more information on SwitchRay's communications service platforms, please visit http://www.switchray.com and/or email info(at)switchray(dot)com.
For inquiries, contact:
Dina Scaglione, Director Marketing & Sales Operations
949.910.9401