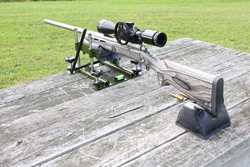 Middleburgh, New York (PRWEB) December 09, 2015
Twenty to twenty-five years ago a rifle and ammunition combination such as a Winchester Model 70 in .308 / 7.62 x 51mm with a 3x-9x weaver rifle scope purchased over the counter and used with Winchester or Remington factory loaded 168 grain ammunition could reasonably be expected to achieve 2.0 to 3.0 MOA repeatability. With the advent of modern manufacturing techniques and incredible attention to consistency the modern model 70 Winchester or model 700 Remington with a 3x-9x Bushnell rifle scope chambered in the same .308 / 7.62 x 51mm caliber using modern off the shelf 168 grain Winchester ammunition can now be expected to reasonably shoot at 1.0 MOA or better. This is a major development which makes successful long range shooting sports something that the average shooter can aspire to. In all shooting sports where repeatability is the primary objective (many people confuse accuracy with repeatability) the most important consideration is to remove as many equipment related variables as possible so that the only remaining one is the shooter himself. This is what the advances in guns, ammunition, and sighting devices has done. It is now a reasonable expectation for the average shooter with a stable shooting rest or gun support platform such as the HYSKORE® Center Punch® to be able to consistently hit the target at 300, 400, 500, and even 600 yards.
The HYSKORE® http://www.hyskore.com #30282 Center Punch® Rest arrives set up for bench top long range shooting. The rest includes a platform that engages 4 oilless linear motion bearings that move vertically on polished chrome rails to provide seamless and smooth elevation by utilizing an operating lever and dual ball bearing rollers that collectively act as a cam to move the platform up and down. The elevation can be held at any point by engaging or disengaging a proprietary clutch mechanism. The set includes a custom leather rabbit ear rest bag with a protective skirt that rides on the platform and a HYKSORE® #30172 Leather Rest Bag to support the rear of the gun. There are 4 pointed elevation jacks with locking collars for stabilizing and leveling the rest. This is important because according to Jeff Cochran, "it can be a real pain to have to hunt around for something to stick under your rear bag".
According to Jeff Quinn of Gunblast.com, "F-Class target shooting is one of the fastest growing of the long range precision rifle competitions." (http://www.gunblast.com/Savage-12F.htm) This is symbolic of the general trend in interest in long range rifle sports.
Since F Class shooting does not take place off a bench, optional accessories include a custom leather rest bag that accommodates the 3" wide forends commonly used on F Class rifles, such as, the Savage FTR in either .308 / 7.62 x 51mm or 6.5 x .284 or custom rifles. The included HYSKORE® #30172 rest is the perfect rear gun support. If it is properly adjusted simply squeezing the bag will easily fine tune elevation. Keep in mind, to move the point of impact 1.0 MOA (1.047 inch at 100 yards or 10.47 inches at 1,000 yards) it is only necessary to move the muzzle 0.01047" (1.047" divided by 100). The other optional accessory is a set of 100mm long elevation jacks with 75mm diameter bases so that the rest can be used on either turf or soil and still maintain stability. The set also includes a magnetic backed spirit level and protective rubber feet so that the pointed leveling jacks do not damage delicate bench or table tops.
About HYSKORE®
HYSKORE® is a registered trademark of Power Aisle, Inc. (Est. 1988) of Middleburgh, New York 12122, 631/673-5975. HYSKORE® manufactures a proprietary line of advanced, purpose built, tactical and sport shooting accessories including shooting rests, multi-function electronic hearing protection, pistol rests, pistol racks, and sundry accessories. HYSKORE® products are available at numerous retailers including: Cabela's http://www.cabelas.com, BassPro http://www.basspro.com, Sportsman's Guide http://www.sportsmansguide.com, Cheaper Than Dirt, http://www.cheaperthandirt.com, Brownells http://www.brownells.com, and Midway USA http://www.midwayusa.com.