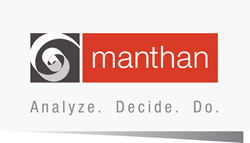 Our vision of democratising analytics has been validated and recognized by analysts and organizations across the world
Santa Clara, CA (PRWEB) December 08, 2015
Manthan, the global leader and innovator in big data and analytics has bagged the Gold at the Express IT Awards 2015 in Analytics. This is the second time in a row that Manthan has been recognized as the top most leader in analytics by the jury at Express IT Awards.
Manthan has been focused on making analytics the core of every decision making process across consumer businesses. With a comprehensive cloud strategy and the implementation of the SaaS model, the company has broken entry barriers for analytics adoption. Offering cost effective, quick to adopt, easy to integrate and highly scalable, pre-packaged analytics to Retail and CPG sectors, Manthan has made a mark as the Chief Analytics Officer for consumer industries world-wide.
"Our vision of democratising analytics has been validated and recognized by analysts and organizations across the world, but being an Indian company, recognition in India is always very special for us. We are proud to be building state of the art analytics products in India and serving more than 200 clients in 22 countries the world over," said Atul Jalan, CEO and MD, Manthan.
Manthan has an array of advanced analytics products that not only cover diagnostic or descriptive analytics but encompass predictive and prescriptive analytics, helping business users analyse the data, take decisions based on insights and then implement those as well. With a robust big data architecture optimized with Hadoop, Manthan empowers its customers to assimilate insights from multi-structured data for informed strategy formation and improved personalization.
Manthan has forged multiple global alliances and partnerships to keep abreast of rapid advances in the technological domain, and has added features to its product suites to ensure that they are the best in their class. Its analytics products combine the ease of use of context aware pre-built analytics and real time analytics on the go.
Some key focus areas that Manthan's experts are working on include machine learning, artificial intelligence and guided analytics. Earlier this year, Manthan got significant investments to boost its efforts in taking business decision making to the next level. "Today we bring the most advanced analytics, to enable an analytics-unschooled business user to ask questions and find answers that have mapped the query against every byte of data available to deliver the best business decision. And, the next step is to be able to answer every business need based on data alone," added Atul.
Manthan will again have a major presence at the National Retail Federation (NRF) Convention & Expo that will be held January 17-20, 2016 at New York City's Jacob K. Javits Convention Center. Meet Manthan's Analytics experts at booth #3751 at the NRF Convention & Expo.
------------------------
About Manthan :
Manthan is the Chief Analytics Officer for consumer industries worldwide. Manthan's portfolio of analytics-enabled business applications, advanced analytics platforms and solutions are architected to help users across industries walk the complete data-to-result path - analyze, take guided decisions and execute these decisions real-time. Sophisticated, yet intuitive analytical capability coupled with the power of big data, mobility and cloud computing, brings users business-ready applications that provide on-demand access and real-time execution - the only path to profit in a contemporary, on-demand and connected economy. Manthan is one of the most awarded analytics innovators among analysts and customers alike .To see how your business can gain from analytics, visit http://www.manthan.com.