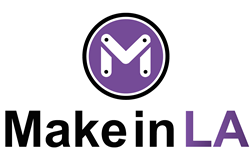 Noramay and Shaun are fostering a unique community of creators and leaders and we look forward to playing a part in establishing Los Angeles as an epicenter for hardware innovation
Los Angeles, CA (PRWEB) December 07, 2015
PMBC Group, a Los Angeles-based agency specializing in tech PR and communications, today announced the signing of Make in LA, a strategic account win for the agency's growing hardware practice. PMBC Group is responsible for elevating awareness of the accelerator's program and portfolio companies, as well as generating additional opportunities to further establish co-founders Noramay Cadena and Shaun Arora as visionaries within the industry.
"We are excited to partner with Make in LA to engage the growing global maker and investment communities in conversations around advancing opportunities for emerging companies in the hardware space," said Ola Danilina, founder and CEO of PMBC Group. "Noramay and Shaun are fostering a unique community of creators and leaders and we look forward to playing a part in establishing Los Angeles as an epicenter for hardware innovation."
Make in LA is Southern California's first and only hardware-focused accelerator and mentorship program dedicated to bringing technologically advanced and tangible items to market. Its intensive four-month program focuses on developing, prototyping and manufacturing products, and places a strong emphasis on growing the people and leaders behind the project in an effort to instill strong ethics, morals and a sense of responsibility to their community and team. The unique program provides monetary investments up to $150,000 as well as resources including mentoring from a global network of industry experts, creative office space, an advanced prototype lab through a partnership with HexLab Makerspace, extensive production facilities as well as established supply chain and engineering partnerships with NEO Tech.
The program selects up to five companies for each class and is currently accepting applications through December 13, 2015.
About PMBC Group
PMBC Group is a fast-growing public relations agency based in Los Angeles, with offices in Beverly Hills. PMBC is dedicated to delivering tactical, results-driven public relations campaigns that build brand value and advance immediate and long-term business goals. PMBC's success-proven formulas are designed to navigate the modern media landscape utilizing a collaboration of new and traditional media to achieve strategic media exposure to reach key consumer audiences, industry influencers, investors and other constituents that matter to our clients. PMBC is comprised of a team of professionals of varied backgrounds from public relations, journalism, social media, merchandising, product development, venture capital, entertainment and hospitality. For more information please visit http://www.PMBCgroup.com.