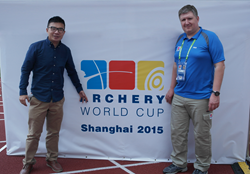 Rugged Tech is very well prepared on their matter.With their support we could identify the right rugged product to be used in our projects. Very fast and accurate answer, both during sales and in after selling support.
(PRWEB) December 16, 2015
Rugged Tech. LTD, China based company that concentrates on rugged tablets and rugged smartphones, has recently been selected to be the tablet vendor for the World Archery Federation.
The World Archery Federation technical manager Matteo has contacted us for the rugged tablet. The tablet would be mainly used by the referees to calculate the athlete's scores. The tablet would need to be waterproof, readable in sunlight and designed for outdoor use.
Rugged Tech has chosen the 7-inch Rugged Tablet for WAF. Since the IPX5 can withstand powerful waterjets, a few raindrops would not hurt it. WAF has tested it in diverse environments, and it turned out they worked perfectly. After the first batch have been thoroughly tested, a charging issue has been found. When the tablet was being charged, the micro USB cable would wiggle, as a consequence the charging port would fall out. The Rugged Tech R&D team had revised the micro USB port to a magnetic charging port; this has solved the waggling issue. Since then, there have been no problem charging the tablets for the WAF.
Cooperation was not always smooth; several devices have stopped running for some reason, and they have been shipped back to China for repair. WAF needed the devices urgently, so Rugged Tech repaired all of the returned tablets within 5 working days. The whole repair time took less than 12 days including shipping the tablets to China and back to WAF.
Rome is not built in one day; the World Archery Federation has approved our services after 1 year of testing. Tom, The Secretary General at World Archery Federation has given Rugged Tech an award for our outstanding service. Starting in January 2016, we will enter a formal cooperation between World Archery Federation and Rugged Tech.
About Rugged Tech :
Rugged Tech is a China based company with the focus on rugged tablet pc and smartphone . With expertise on data capture technology and ruggedness we have already served more than 100+ guests from different area like fleet managament , agriculture , warehouse managerment , logistic etc . Please visit http://www.ruggedt.com if you want to source rugged hardware from China .