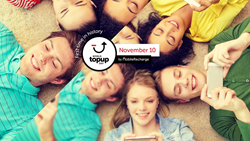 "Mobile Recharge is dependable, fast and trustworthy." (Tom Hill on Trustpilot.com)
Atlanta, GA (PRWEB) December 09, 2015
For the first time in history, thousands of expats worldwide celebrated World Top Up Day and got rewarded for being generous with their friends and families. They all came together on November 10 to celebrate top up givers and long-distance giving, as a form of generosity few people mention otherwise. The idea behind this initiative belongs to MobileRecharge.com, a service with more than 10 year experience in the international telecommunications field, who wanted to draw attention upon the generosity of the expats who support their relatives and friends back home constantly. The company's big surprise for all expats who joined the celebration was to give up all processing fees for all top ups on the website: http://mobilerecharge.com/
Another triggering factor was also the general association of generosity with charity, rather than family support or educational programs for long term development. MobileRecharge.com decided to focus on the former as part of their service and mission.
A third reason why people were encouraged to join World Top Up Day was to be part of something big and global for "the first time in history." Here are the words of the event organising team themselves: "If you missed the launching of Apollo 11 and the first human steps on the moon, don't miss this day. #WorldTopUpDay is the first time that anyone celebrates top-up givers worldwide for their generosity and kind heart, as well as the power of giving unconditionally out of compassion, love or friendship."
The biggest surprise on November 10 was that the company decided to give up all profit in in favour of those who wanted to send mobile credit abroad. The drop of all processing fee on the part of MobileRecharge.com has another meaning. From now on, every year on November 10, top up givers and MobileRecharge.com will focus on the heart-felt and generous gesture of long-distance giving.
Due to this processing fee drop, 20% more people than the usual number sent mobile credit as a gift on MobileRecharge.com: http://mobilerecharge.com/
The event started even sooner than November 10 on MobileRecharge.com social media platforms, as well as other blogs and websites. On http://www.inforisticblog.com, people showed their appreciation of MobileRecharge.com initiative: http://www.inforisticblog.com/2015/11/get-ready-for-mobile-recharge-world-top.html
Here is a comment signed by someone called Darey: "Sending airtime is sometimes like meeting someone's specific need, if you know what I mean. But rewarding someone for being generous sounds Great to me. The day is noted on my calendar already. Thanks."
Two videos were launched before World Top Up Day and are still available on YouTube: http://www.youtube.com/c/MobileRecharge. One was meant to point out that "smiling" is a worldwide language worth speaking. The second has a funny approach, and dwells on the effect of top ups upon people.
Talking about playfulness, the organisers shared with the fans articles about generosity and giving from both a social perspective and a psychological understanding of the phenomenon. Besides articles, there was also a "Spot the difference" game launched, as well as other fun and brainy goodies.
The MobileRecharge.com team express their gratitude for the overall implication of thousands of expats from different parts of the world, within the event. They also announce that the next World Top Up Day will take place on November 10, 2016.
About MobileRecharge.com
MobileRecharge.com is an interactive website designed by KeepCalling, a global telecommunications company registered in 2002 in USA. Presently, KeepCalling provides its services to hundreds of thousands of consumers and businesses, with a focus on customer satisfaction. KeepCalling has been listed by Inc 5000 as one of the fastest growing companies in the USA for 5 consecutive years. In 2015 the company registered a revenue increase of over 200% from 2011 to 2014. MobileRecharge.com is the first brand in history who initiated on November 10, 2015 World Top Up Day to celebrate top up givers worldwide.