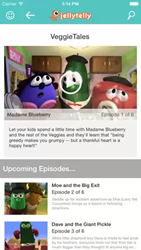 "The team was proactive, coming up with solutions for issues that we hadn't even defined yet and for designs. They contributed a lot by sharing mobile app development knowledge we didn't have!" —Matt Clark, Product and UX Manager, Creative Trust
Fremont, CA (PRWEB) December 09, 2015
Softjourn, a software development services provider, today announced that it has completed a project with JellyTelly, an entertainment video and game network, to deliver and expand the mobile reach of their faith-based programming. Thanks to joint efforts, JellyTelly customers can now access their content and videos from mobile devices, anytime/anywhere, such as while taking their kids to school or enjoying a picnic.
Today kids are much more adapted to using media in a new way, so JellyTelly thought, Why not create iOS and Android apps that will teach children about God and faith, and develop their religious worldview, all while being entertaining and fun at the same time? This objective brought Softjourn and JellyTelly together: to develop a new way to deliver JellyTelly services by combining Softjourn's media and mobile expertise together with JellyTelly's creative approach. "The team was proactive, coming up with solutions for issues that we hadn't even defined yet and for designs. They contributed a lot by sharing mobile app development knowledge we didn't have!" —Matt Clark, Product and UX Manager, Creative Trust
A strategic decision was made to launch the iOS and Android apps at the same time, since it meant quicker time-to-market and allowed the two teams to combine and share any questions and answers. The knowledge-sharing between the two mobile teams made them more effective, since each team was asking questions the other team might not yet gave thought of, but would eventually need an answer to.
For Softjourn, working closely with its clients means very deep communication processes and keen insight into the business side and the ultimate goal. "I was very excited to be a part of this project, developing iOS & Android apps for kids and trying to make them both entertaining and informative. I liked the fact that communication with the client was very close, as though he was in the room next door. One more great point for us was that our client always considered all of our suggestions!" — Kostya K., Software Architect at Softjourn.
About JellyTelly
JellyTelly provides kids with a safe place to watch, play, and grow! It is a unique online video and game network for families, created by Phil Vischer and Creative Trust, a brand management firm. As a faith-based alternative to other entertainment for children, JellyTelly provides families with a safe place to learn and play online and help raise the next generation of Christians. JellyTelly hosts faith-based videos, games and devotionals created and curated to entertain children while teaching them about God and faith. "We curate the highest quality shows that communicate with creativity and depth but remain age-appropriate for the child's learning level." – JellyTelly's promise to parents.
About Softjourn, Inc.
Softjourn (softjourn.com) has been providing software engineering services since 2001. Specializing in Media & Entertainment solutions, both small and medium sized tech product and service companies, as well as Fortune 1000 media and ticketing companies, have partnered with Softjourn, making big gains in the services and products they provide to their customers. We believe, "People have infinite ideas and Softjourn gives them life!".