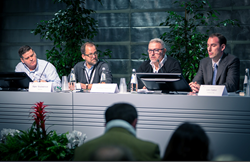 What customers ask for when they come into the shop are authentic wines
(PRWEB) December 07, 2015
As more than 1.500 people streamed in at wine2wine, the forum on the business of wine organized by Veronafiere in Verona on 2-3 December 2015, a second panel on the US market, "Italian wine in today's American market", picked up where the plenary session held by Danny Brager from Nielsen had left off taking a closer look at the American consumer's strong demand for authenticity and tradition.
Stevie Kim, Managing Director of Vinitaly International and mastermind behind wine2wine, introduced Levi Dalton, a sommelier and host to his popular "I'll drink to that!" podcasting program, to lead the US buyers panel for wine2wine for his two significant roles. "Sommeliers in the United States are key influencers of wine sales in restaurants and NY sommeliers in particular seem to be keen on leading the wine trends" Stevie Kim explains. "Sommeliers also recommend food and wine pairings and this role seems to be gaining more momentum. Levi Dalton has a definite connection into the world of sommeliers and other beverage trade professionals through his podcast. Still today, many clients will generally ask a sommelier to provide wine recommendations. Levi also has featured many Italian Wine producers on his podcast and his interest in Rare Italian Wines is unsurpassable".
Levi Dalton introduced an experienced panel made up of retailers and importers invited to wine2wine as part of an experimental matchmaking program, the Vinitaly International Buyer Connect, aimed at facilitating their encounter with Italian producers interested in exporting to the USA.
During the session, Levi Dalton confirmed the trends identified in Danny Brager's previous data rich session passing on to explain that in a rapidly changing urban landscape like New York a pervading sense of impermanence leads to locals yearning for an anchorage to history and traditions. They can find this by buying into the world of Italian wine and their identification with a wine is made more tangible by anything that gives it a sense of place, such as being made from a native variety. A demand for authenticity that was also confirmed by both Andrea Fassone, of Enotria, an importer based in N.Y. and Derek Mize a NY retailer: "they are increasingly wine savvy and getting a sense of the place contributes to the enjoyment of the wine that they are drinking" they said. "What customers ask for when they come into the shop are authentic wines".
A trend this, that can be seen in the way domestic Californian production has been emulating trending Italian wines traditionally shunned by the NY market, such as Lambrusco and other wines which have found a niche for their freshness, high acidity and tannins, as explained by Mark Middlebrook of Portavino, based in Oakland in the bay area of the West Coast.
Dalton also expressed the market's appreciation for the opportunity that Italian producers give to Americans to actually taste wines before they buy them and the efforts made by consortiums representing a region to provide a range of similar wines made by different producers. "Americans don't get many opportunities like these" he said. Panellists also remarked on the extraordinary hospitality to be encountered in Italy compared to other countries of Europe and could not emphasise enough how forming a good personal relationship with customers can shield against them moving on to other wines and the market itself moving on to the next fad.
An important factor contributing to the popularity of Italian wines on the N.Y. scene is also the presence of a large number of Italian restaurants: in the past the owner would decide on the wine list but now they are appointing sommeliers who have more time to look for good, little known wines. Americans eating habits and their aversion to ordering the same dish as someone else at the table means that the same bottle of wine has to go with a wide range of food.
"Young sommeliers across the States know what each of them are up to and what lists their restaurants are proposing through social media. The main channel for this is Instagram and I would recommend everybody to set up an account to get into this network" concluded Levi Dalton.
About:
Veronafiere is the leading organizer of trade shows in Italy including Vinitaly (http://www.vinitaly.com), the largest wine and spirits fair in the world. During its 49th edition Vinitaly counted some 4.000 exhibitors on a 100.000 square meter area and 150.000 visitors including more than 2.600 journalists from 46 different countries. The next edition of the fair will take place on 10 - 13 April 2016.
The premier event to Vinitaly, OperaWine (http://www.vinitalyinternational.com) "Finest Italian Wines: 100 Great Producers," will unite international wine professionals on April 9th in the heart of Verona, offering them the unique opportunity to discover and taste the wines of the 100 Best Italian Producers, as selected by Wine Spectator. Since 1998 Vinitaly International travels to several countries such as Russia, China, USA and Hong Kong thanks to its strategic arm abroad, Vinitaly International. In February 2014 Vinitaly International launched an educational project, the Vinitaly International Academy (VIA) with the aim of divulging and broadcasting the excellence and diversity of Italian wine around the globe. VIA has now also created its very first Certification Course with the aim of creating new Ambassadors of Italian Wine in the World.
###