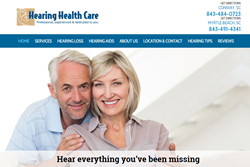 Conway, SC (PRWEB) December 07, 2015
While today's hearing aid technology can treat practically all instances of hearing loss, the plethora of hearing aid models can be intimidating. To help guide patients in the process of selecting the right model, Hearing Health Care has releases a helpful guide titled How to Select the Right Hearing Aid Model.
In the guide, patients will learn how to assess the various hearing aid models according to four factors. Then, with the help of an experienced hearing care professional, the patient will be able to narrow the choices to the models that will work best for their needs, preferences, and budget.
The first factor to examine is style. Some hearing aids sit behind the ear, while others are hidden entirely within the ear canal. A patient's choice may simply depend on cosmetic preference, but should be balanced against ease-of-use, battery life, and functionality.
The second factor is ease-of-use. Compact hearing aids may be aesthetically more appealing, but they can also be more difficult to handle. Models that can be controlled with mobile phones or watches may also appeal to some patients.
The third factor is functionality, as different models have different features. As one example, people who frequently use the phone would want to make sure their hearing aids come equipped with telecoils for easy listening on the phone.
The fourth factor is price and financing, as the hearing aid should fit within the patient's budget. According to Hearing Health Care, it's important for people to keep in mind that the monthly expense of a pair of hearing aids is relatively low compared to the benefit received.
After reviewing all factors, the patient is prepared to work with the hearing specialist to select the optimal model. Then, the hearing specialist can custom-program the hearing aid to match the exact attributes of the patient's hearing loss.
About Hearing Health Care
Hearing Health Care is a full-service audiology practice located in South Carolina, with locations in Conway and Myrtle Beach. The practice offers comprehensive services including hearing tests, hearing aid evaluations, custom hearing aid fittings, hearing aid cleanings, rehabilitative counseling, preventive care advice, and service and repair for most hearing aid models.
Contact:
Dr. Pamela S. Benbow
Hearing Health Care
[http://www.hearinghealthcare.net
843-484-0723