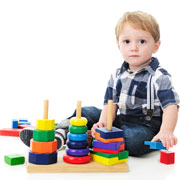 Business leaders - including those in toy manufacturing and relevant retail industries - should take this opportunity to ensure parents understand all of the potential hazards associated with the products.
Denver, CO. (PRWEB) December 08, 2015
The holiday shopping season has reached its peak, and businesses are now preparing for the final days of increased foot traffic in their stores and heightened activity of retailers that sell their products. Many of the items purchased during Black Friday, Small Business Saturday and Cyber Monday will be given to children during the holidays in just a few weeks, therefore now is a good time to ensure all parents understand the best ways to keep this time of year enjoyable and safe.
Businesses can use toy safety labels from Lightning Labels to alert consumers to their products' age-appropriateness and potential hazards during this gift-giving time of year, which can also help position their businesses and their brands in a more preferable spot within the marketplace. Additionally, custom safety labels can be used to get the word out about Safe Toys and Gifts Month this December without hindering the aesthetic appeal of products and their packaging in the eyes of shoppers.
Custom Labels for Toys
December is the biggest month of the year for distributing toys to children, and is the final opportunity to increase brand reputation in 2015, and custom labels for toys and any product is a great method to drive holiday sales.
"Safety should always come first when selling any product," AnneMarie Campbell, Director of Business Development at Lightning Labels, explained. "Business leaders - including those in toy manufacturing and relevant retail industries - should take this opportunity to ensure parents understand all of the potential hazards associated with the products. With custom labels, this can be done in such a way that better positions products for sales, as well."
Labels should walk the line between being aesthetically pleasing and informative for the purchaser, and custom labels for gifts can cover a range of requirements involved in selling these items safely through the end of the year and beyond.
Big Impact on the Brand
When companies focus on corporate responsibility and ethics in their core strategies, they are more likely to excel in their respective marketplaces. Consumers are more interested in sustainable, moral and philanthropic businesses than ever before, and simple, affordable adjustments to marketing programs can align a company's image with the preferences of the modern customer. Participating in an event such as December's Safe Toys and Gifts Month is a great way for businesses to demonstrate social good and responsibility. Custom labels provided by a reliable vendor can work to ensure organizations finish 2015 strong and hit the ground running in 2016.
About Lightning Labels:
Lightning Labels uses state-of-the-art printing technology to provide affordable, full-color custom labels and custom stickers of all shapes and sizes. From small orders for individuals to the bulk needs of big businesses, Lightning Labels is equipped to handle and fulfill custom label and sticker projects of all types. Best of all, like the name implies, Lightning Labels provides a quick turnaround for every customer's labeling needs. Uses for Lightning Labels' custom product labels and custom stickers include food packaging and organic food labels, wine and beverage labels, bath and body labels, and nutraceutical products, such as vitamins, essentials oils, and herbal remedies, as well as event stickers, adhesive window stickers and more. Lightning Labels strongly supports the development of environmentally friendly printing materials and carries EarthFirst PLA, a new kind of green label material made from corn instead of petroleum. While operating as a high-tech printer, Lightning Labels prides itself on its personalized customer service. Lightning Labels provides one stop shopping for all of your custom label needs. For more information and to place orders online, visit LightningLabels.com. For the latest in packaging news and labeling promotional offers, find Lightning Labels on Twitter (@LightningLabels), Facebook, Pinterest, Google and LinkedIn.