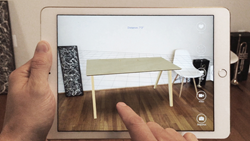 The only Augmented Reality application that lets you physically walk around the virtual object in real time 3D
(PRWEB) December 08, 2015
In May 2015, Washington D.C. area Augmented Reality startup Visidraft, launched their application to allow Architects to view and walk around 3D CAD designs as though they were real, using only an iPhone or iPad. "Following our launch, Visidraft was consistently seeing 10,000% day over day growth in installs and page views" said CEO and Co-Founder Andrew Kemendo. "The surprising thing for us, was that a high percentage of that growth was coming from furnishings and appliance manufacturers."
After fielding multiple requests from manufacturers for a white label version of Visidraft for their products, the Visidraft team decided to refocus their product to the combined $200 Billion global furnishings and appliance market and re-brand as Pair. "Given the difference in the market we were addressing, we needed to make our product and brand much more consumer friendly. Our re-branding to Pair and updated user interface, makes us more accessible for the average consumer." Visidraft officially transitioned to Pair with the public release of Pair 1.0 on the Apple App store on November 11th.
Pair now has over 200 home and office furniture products from Fortune 500 manufacturers and is adding new products every day. "The key difference between Pair and all other Augmented Reality tools is that Pair is the only one that allows you to physically walk around a virtual 3D product like it is in your space. Our goal is to have every conceivable product from furniture to automobiles available for consumers to interact with in their home or office space" said Andrew Kemendo.
Hivers and Strivers, an angel group that focuses exclusively on start-ups led by military veterans, will lead a 2nd round of funding for Pair with a commitment of $250k. "This is our second investment for a total of $500k into the Pair Team, and we are thrilled with the progress they are making. Augmented Reality is quickly becoming the strongest investment vertical, with more acquisitions per operating company in 2015 than any other industry. We are expecting significant investment growth in Pair through 2016", notes Douglas Doan, founder of Hivers and Strivers.
About Pair: Pair uses proprietary Computer Vision and Augmented Reality technologies, to allow users to drag-and-drop 3D models of consumer furnishings and appliances into their space, walk around them like they are real and purchase from the app, using only a standard iPhone or iPad.