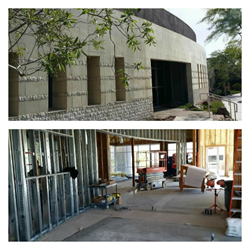 I'm very excited to see construction well underway for the company's new home.
Las Vegas, NV (PRWEB) December 08, 2015
In September, Bravo Pawn Systems began construction of their new office headquarters in Las Vegas, NV. In a recent visit, construction was confirmed to be on schedule for a target move/open date of mid-January.
The new state-of-the-art headquarters will facilitate Bravo's plans for growth and incorporate a theme of collaboration with its open-space design. Located in the Summerlin neighborhood near the world-renowned TPC Summerlin golf course, it will be in the thick of many other thriving local businesses.
Steve Mack, Founder and CEO of Bravo Pawn Systems, says, "I've always known Bravo would grow out of their current offices. I'm very excited to see construction well underway for the company's new home. This move will fall in line with our company's outlook and strategies for growth in the coming years."
With their cutting edge Point-of-Sale software designed for the pawn industry, Bravo Pawn Systems is rapidly becoming the go-to solution for pawnbrokers everywhere. As a truly cloud-based Software-as-a-Service, Bravo is able to continually update and provide the newest, most efficient solutions for their clientele.
About Bravo Pawn Systems:
Bravo Pawn Systems believes in the success of the pawn industry and strives to see pawnshops grow and compete with the national big box stores. Developed by a 4th generation pawnbroker specifically for pawnbrokers, Bravo helps companies find solutions to challenges they face with day-to-day operations.