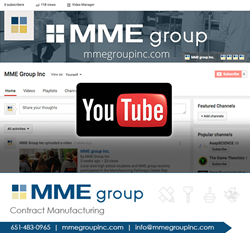 The two-and-a-half minute video presents viewers with a glimpse into many of the company's contract manufacturing deliverables that are executed during a complete box build
St. Paul, MN (PRWEB) December 07, 2015
The video posted to MME group's new YouTube Channel includes footage of the company's contract manufacturing and value-added services.
The two-and-a-half minute video presents viewers with a glimpse into many of the company's contract manufacturing deliverables that are executed during a complete box build. MME group provides product development (engineering), tooling, molding, assembly and quality services. It specializes in medical, highly regulated and consumer product industries. MME group capabilities include automated assembly, clean room, sterilization services, inventory management and logistics. The video features some of the company's most popular services which are executed at two Midwest locations.
"Not all our customers are able to tour the facilities and experience for themselves the expertise of our operations. We utilize start-of-the-art technology, apply manufacturing best practices, feature cleanroom molding and assembly, and operate a high tech quality lab," said Brian Bussmann, vice president at MME group. "The video provides customers with one more tool to help decide if we're the right contract manufacturing partner for their project."
View the video on the MME group Inc. YouTube Channel or visit http://www.mmegroupinc.com.
About MME group
MME group is a leading contract manufacturer of small to medium-sized parts and products. Services include: Full product development, tooling, molding and assembly. We provide program, quality, supply chain and inventory management.
With some of the fastest turnaround times for contract manufacturing companies in the United States, MME group's speed to market is unmatched providing you with a competitive advantage on low cost manufacturing.
MME group provides the best solutions to fit your needs with unmatched care, quality systems and technical expertise. Make MME group your contract manufacturing partner for short lead times, highest quality and cost competitiveness. Visit mmegroupinc.com.