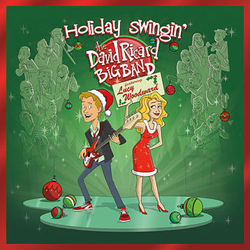 Holiday Swingin' pours forth a torrent of jubilant vibrancy from start to finish. - Downbeat
Los Angeles, CA (PRWEB) December 08, 2015
TV/film composer David Ricard (The Tom & Jerry Show, The Pink Panther & Pals) puts an exciting new twist on traditional holiday music with his 20-piece big band and their release of "Holiday Swingin'." "I want to show that these classic holiday tunes are open to interpretation," said Ricard, a two-time Emmy nominee who wrote all of the original arrangements on the album. "So many artists are recording them the same way for the last fifty years and I wanted to push the boundaries of what's expected with these songs while keeping their original spirit."
Holiday Swingin' by the David Ricard Big Band features singer Lucy Woodward (Snarky Puppy, Pink Martini,) whose sexy, sassy vocals can be heard on familiar tunes, two new original songs, "Santa's Lullaby" and "Jingle Jangle Jungle," and an updated version of "Auld Lang Syne" called "Wrap it Up on New Year's Eve." Additional focus tracks include: "God Rest Ye Merry Surfers," a Munsters-inspired, surf guitar powerhouse; "Winter Wonderland," a blistering Billy May-esque jazz waltz; "The Merry Mash-Up," and "Jingle Jangle Jungle," an instant Christmas vocal classic.
Though David Ricard is versed in all film music genres, the work that gets him the most recognition showcases his wit and irreverence as a composer and arranger. Drawing on his childhood as a self-proclaimed TV junkie and the son of a MAD Magazine cartoonist, Ricard uses his arsenal of pop culture references and his upbringing steeped in comedy to his musical advantage.
You can learn more about David Ricard Big Band at http://www.davidricard.com
For more information, images, or to arrange for an interview, please contact Melissa Infurna at Powderfinger Promotions: melissa(at)powderfingerpromo(dot)com.
Powderfinger Promotions–Independent Radio Promotion and Publicity. Since being founded in October 1994, Powderfinger has come to be regarded as a top indie radio promotion and publicity firm with ties across North America.