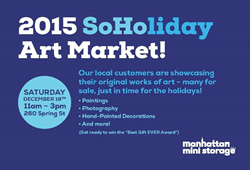 We wanted to give our artist-customers the opportunity to show off their amazing talent to the general public, while at the same time giving New Yorkers a chance to support local artists when they're shopping for their holiday gifts. It's really a win-win
Manhattan, New York (PRWEB) December 08, 2015
It's no secret that artists in New York face a major challenge when it comes to finding space to create, store and display their works. After all, ours is a city of one-room studios, shared bedrooms and tiny closets into which one can barely step, let alone walk.
But less known is the fact that some of New York's most talented painters, sculptors and craftsmen use Manhattan Mini Storage rooms not only to house their art tools and supplies but also as de facto studio and gallery space to make and store their creations.
Those creations will come out of hiding when Manhattan Mini Storage holds its first annual Holiday Art Fair on Saturday, Dec. 19, from 11AM to 3PM, at the 260 Spring Street location, in SoHo. Around 20 artists who rent storage space there will be displaying and selling their one-of-a-kind works to the general public – just in time for the holiday shopping season.
"The convenience provided to me by Manhattan Mini Storage has always been a function of its location in SoHo, minutes away from where I set up," said Eugene Ortiz, a painter who will be among the artists selling his wares at the art fair. "Now that I have the opportunity to showcase my art here, location again comes into play, because SoHo has a long history as a prestigious art center."
"We've known for years that we've got some incredible artwork tucked away in these storage rooms," said Jenna Chrisman, Chief Branding Officer at Edison Properties, the parent company of Manhattan Mini Storage. "We wanted to give our artist-customers the opportunity to show off their amazing talent to the general public, while at the same time giving New Yorkers a chance to support local artists when they're shopping for their holiday gifts. It's really a win-win and a no-brainer, especially in SoHo, which is an art world Mecca."
Manhattan Mini Storage is also offering a one-day Holiday Art Fair Special for people needing extra space for their holiday gifts, available at the 260 Spring Street location only. Anyone interested should ask a staff member at that location or call 212-STORAGE.
About Manhattan Mini Storage:
You probably know them from their subway ads, but Manhattan Mini Storage is a lot more than funny slogans. They were the first self-storage company in Manhattan, opening their doors in 1978. They provide a full range of products and services to meet all their customers' moving and storage needs and offer a complete package of no-fee perks, including off-street parking, package acceptance, hanging rods and shelves, Wi-Fi in the lobby and their famous Storage Taxi, which picks up customers and their belongings anywhere in Manhattan. With 17 locations, Manhattan Mini Storage has become the neighborhood moving and storage solution for over 250,000 New Yorkers.
For more information about Manhattan Mini Storage, visit http://www.ManhattanMiniStorage.com or call 212-STORAGE.
###