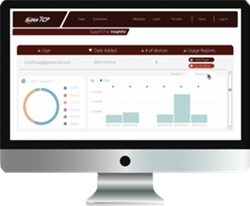 SuperTCP has proven to be a fast, reliable technology with no server overhead that is helping our work in numerous ways. Whether it be file transfer, video streaming or remote support. Colour me impressed! Bill Christie - Affinity Productions
Ottawa, Ontario (PRWEB) December 08, 2015
SuperTCP.com, is led by serial entrepreneur Martin Horne. Horne's inspiration came from talking with several production and post production houses that already used UDP based fast file transfer apps from Aspera or Signiant.
Horne said, "Although these companies were pleased with the technical performance of their UDP apps, they were very frustrated with their steep price. To boot, despite already having these expensive apps, often they still had to revert back to their slower FTP apps."

SuperTCP makes FTP as fast as the UDP apps but without compromising any TCP compliance. By staying TCP compliant,
SuperTCP enables you to leverage the myriad of FREE, fire tested, open source TCP based applications like FTP and rSync that you already own, use, and trust.
SuperTCP does not require you to learn any new apps, or modify your existing workflow.
SuperTCP is much more firewall friendly and less complex to setup than UDP apps.
SuperTCP enables you to directly send large files straight from your PC, you don't need dedicated servers.
SuperTCP is very efficient and automatically leverages your PC's TCP offload processor so you can still use apps on your PC while transferring large files fast at the same time.
SuperTCP is the first FTP accelerator. It's a simple silent network driver installation. All TCP based applications (e.g. FTP, rSync, Box, Glacier, Vimeo, MAM, DAM etc.) are automatically optimized for speed. There's no configuration or mucking about; SuperTCP is fully adaptive. It only takes a few minutes to download and activate.
Now, FTP is as fast as the UDP apps yet much more affordable. Book a demo with SuperTCP today.