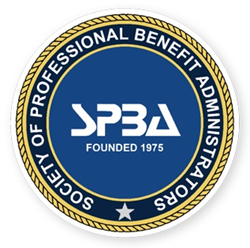 We realize how complex compliance can be and our goal is to give TPAs every resource possible to empower them with knowledge.
Chevy Chase, MD (PRWEB) December 08, 2015
Serving as a compliance resource since 1975, the Society of Professional Benefit Administrators (SPBA) continues to develop and deliver materials to educate its member base on the regulations related to self-funded health plans, including those within the Affordable Care Act (ACA).
One of the organization's recent focus areas has been the ACA's employer/plan reporting rulings as the deadline approaches and the IRS requires information to be filed in 2016.
To help comprehensive-service third party administrator (TPA) members lighten the burden of managing compliance and reduce the risk of reporting violations on behalf of their employer-clients, SPBA has put together a full compilation of resources. It has created a special ACA section on its member website – complete with source documents on Minimum Essential Coverage and Applicable Large Employers (ALE) – and created an 11-page guide with a helpful Q&A overview of the rules. SPBA has also covered ongoing developments in its email updates, launched an instructional webinar on completing the IRS forms and facilitated online forum discussions with peer-to-peer exchange on reporting questions.
"As new requirements like ACA reporting take effect, SPBA is here to help TPA members make sense of what they mean and how to comply," said Anne Lennan, SPBA president. "From the feedback we're receiving, the compliance resources that SPBA has shared have been essential in helping TPAs prepare for the upcoming reporting deadline."
Beyond the ACA-related requirements, SPBA provides a wealth of compliance information to TPAs on various regulatory topics and has expanded its offerings as the interest in self-funded health plans grows. This in-depth coverage ranges from topics like the Employee Retirement Income Security Act (ERISA) and Multiple Employer Welfare Arrangement (MEWA) to the Consolidated Omnibus Budget Reconciliation Act (COBRA) and the Americans with Disabilities Act (ADA).
One of the main reasons SPBA is able to keep members so thoroughly informed is because of its history of having direct, candid connections with regulators for the last 40 years. Being actively involved at the government level has allowed the organization and its members to provide input in shaping requirements and to stay at the forefront of any new developments.
It has also allowed SPBA the ability to provide the full scope of regulatory information to its members in a timely fashion, including technical and big-picture updates, as well as proposed and final rules. TPA members stay up-to-date with access to a number of educational materials:

Official source documents
Compliance templates/guides
Sample forms
Topic-specific articles
Issue-specific manuals
Court case reviews
Webinars from consultants, attorneys and TPA professionals
"Our members tell us that SBPA is the first place they turn for compliance help because they know they'll get the full story, including facts and interpretations," Lennan said. "We realize how complex compliance can be and our goal is to give TPAs every resource possible to empower them with knowledge."
For more information about SPBA, contact:
General Inquiries – Fred Hunt, SPBA Active Past President, fred(at)spbatpa(dot)org or 301-718-7722
Membership Inquiries – Kathy Strauss, Director of Member Services, kathy(at)spbatpa(dot)org or 301-718-7722
SPBA is the national association of Third Party Administration (TPA) firms that manage client employee benefit plans. It is estimated that over 60% of U.S. workers and their dependents in non-federal health coverage are in plans administered by TPAs. The clients of TPA firms include every size and format of employment, including large and small employers, state/county/city plans, union, non-union, collectively bargained multiemployer plans, as well as most industries and professions.