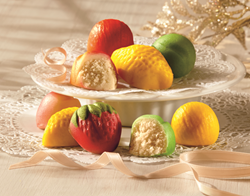 Honoring old and creating new Christmas traditions with food is Swiss Colony's specialty.
Monroe, Wisconsin (PRWEB) December 08, 2015
Start a Christmas tradition by gifting a special memory created by sharing a sweet treat with friends and family this holiday season. The expert bakers and candy makers at Wisconsin-based Swiss Colony hand craft festive Christmas-themed desserts that evoke special moments from childhood.
This season, Petits Fours, a fancy name for mini bite-sized cakes, are shaped and decorated like Santa's reindeer in a 12-piece box of new Reindeer Petits Fours. These adorable reindeer cakes are enrobed in rich chocolate with moist cake, chocolate butter creme, Swiss blend chocolate and hand-decorated features.
Colorful Marzipan is a traditional holiday candy favorite. This intensely flavored candy is a holiday tradition throughout Europe, where almond paste is molded and colored to resemble fruits. Made from select almonds for incomparable taste and texture, Marzipan makes a distinctive gift.
Delectable Sea Salt Caramels have the perfect balance of sweet and salt. Sealed in decorative red tin, it's made for gifting to someone special. Rich vanilla milk caramel gets a delightful sensory contrast from sea salt. Each piece is coated in a rich chocolate blend with a final sprinkling of sea salt.
Say "Merry Christmas" literally with a box of holiday Petits Fours that spell out this holiday greeting. This cheerful arrangement of Merry Christmas Petits Fours features yummy Chocolate Fudge, Vanilla, Strawberry, Lemon, Orange and Almond flavors in one gift set. These are wonderful displayed on a Christmas buffet or to send a greeting to a friend or relative across the miles.
"Honoring old and creating new Christmas traditions with food is our specialty," says Becky Henke, VP of the Food Division at The Swiss Colony. "Our bakery and candy kitchen is filled with the spirit of the season."
From traditional Maple Sugar Candy and chocolate covered Honeycomb Candy to Fudge, Toffee and Tortes, the entire Holiday 2015 line up is online at http://www.swisscolony.com.
About The Swiss Colony
The Swiss Colony is a family-owned Wisconsin company that has been creating food gifts for nearly 90 years. The company insists on the highest quality ingredients for a large selection of festively packaged gifts for every occasion. Exclusive recipes developed by European Master Bakers and hand-decorated novelties like no other are just two of the reasons customers include The Swiss Colony as part of their holiday traditions year after year.