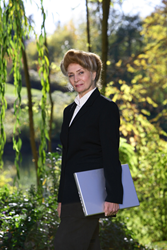 Grants Pass, OR (PRWEB) December 09, 2015
Can eye cataracts, a leading cause of age related blindness, be prevented or slowed by drinking extra water? Most eye research has not addressed the question of cataracts and hydration and most eye doctors tell their patients that cataracts are "incurable." However, at least one prominent physician, Edward Kondrot, M.D., lists hydration – water intake – as a major factor in cataract prevention.* To educate her listeners without taking sides, radio host Sharon Kleyne will discuss cataracts and water consumption on an upcoming radio show.
*(Isaacs, T., "Reverse and eliminate cataracts naturally without surgery," Natural News, April 10, 2013,
http://www.naturalnews.com/039859_cataracts_natural_remedies_vision.html)
Kleyne has acquaintances whose personal experiences support the Kondrot position. Also, Kleyne believes there is compelling logic as to why there would be a link between water drinking and cataract prevention.
Kleyne recently discussed the link between eye cataracts, dehydration and Water Life Science® on her Sharon Kleyne Hour® Power of Water® radio show of Monday, Dec. 7, 2015. For the live show or a podcast, go to http://www.SharonKleyneHour.com.
The globally syndicated, education oriented radio show is heard weekly on VoiceAmerica (Health and Wellness, and Variety Channels) and Apple iTunes. The show is sponsored by Bio-Logic Aqua® Research Water Life Science®, founded by Kleyne and specializing in fresh water, the atmosphere, body surface evaporation and dehydration. The Research Center's signature product for dry eye and eye surface hydration is Nature's Tears® EyeMist®.
Cataracts are a gradual clouding of the lens just inside the iris, through which light passes to enable vision. The corneal surface, not the lens, is the eyes' major light refractor. The lens' primary purpose is to fine tune the focusing of light onto the retina, an ability that is gradually lost as we age.
Cataracts appear to the victim as a gradual blurring of vision and fading of color. Sometimes there is a yellowish tint. Nearly 50 percent of people in the U.S. develop some degree of cataracts by age 80. Cataracts are responsible for 5 percent of blindness in the U.S. and 60 percent of blindness in Africa. Although mostly a condition of the elderly, cataracts can appear at any age, including newborns.
Lens implant surgery is extremely common in the U.S. and highly effective. The cloudy lens is dissolved and removed and a prosthetic lens is implanted. The procedure takes less than 10 minutes per eye and is considered life altering by most patients.
Kleyne lists the following to prevent or slow the development of eye cataracts:
Eat a well balanced diet high in carotenoids and omega-3's (dark green leafy vegetables, fish, flaxseed, and orange or yellow vegetables). Get tested for heavy metals every few years. Wear sunglasses in bright sunlight and avoid UVB (ultraviolet-b) exposure. Don't smoke (smoking doubles the cataract rate). Avoid alcohol (although a definitive link has not been established). And drink six to eight glasses of water a day to avoid dehydration. Other contributing factors include diabetes and eye trauma.
Water is critical to the healthy functioning of every process, structure and cell in the human body, Kleyne notes, including the eyes. The surface of the eye is 99 percent water and a loss of only 2 percent of the water can cause eye surface irritation and inflammation. Water is also the primary vehicle of for flushing toxins out of the body, which expels water along with the toxin. To remain healthy, the body must constantly replace the expelled water. As we age, the likelihood of dehydration increases.
Cataracts are composed of "denatured proteins" which can be the result of chronic dehydration ("Denature: to modify the molecular structure of a protein by heat, acid, alkali or UV radiation so as to destroy or diminish the original properties." "Webster's New Collegiate Dictionary," 1980)
Kleyne recommends eight glasses of fresh water per day in addition to all other fluid intake. Begin each day with two full glasses upon rising and try not to sip the water. Avoid drinks with caffeine, alcohol or excessive sugar. Children 10 or under should drink half their body weight in ounces per day.
To further prevent eye dehydration, Kleyne recommends an external water mist applied to the eyes to supplement tear film moisture lost to accelerated evaporation or tear gland dysfunction. That is the purpose of Nature's Tears® EyeMist® from Kleyne's Bio-Logic Aqua® Research Center. ©2015 Bio-Logic Aqua® Research Water Life Science®. All rights reserved.