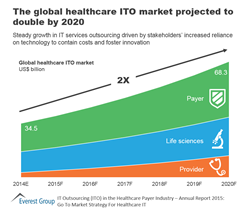 ...the healthcare IT outsourcing (ITO) market is expected to double by 2020, growing at an estimated 12 percent compound annual growth rate from US$34.5 billion in 2014 to US$68.3 billion over the next six years.
DALLAS, TEXAS (PRWEB) December 14, 2015
Facing the challenges of tapering margins, regulatory reforms and evolving customer-centricity, the global healthcare industry is turning to technology to trim expenses and enable innovation. Consequently, the healthcare IT outsourcing (ITO) market is expected to double by 2020, growing at an estimated 12 percent compound annual growth rate from US$34.5 billion in 2014 to US$68.3 billion over the next six years.
Payer-provider convergence as well as significant merger, acquisition and restructuring activity also will fuel healthcare ITO growth.
"In comparing IT activity between healthcare providers, payers and the life sciences subvertical, healthcare providers are expected to witness the highest growth, by percentage, as they make up for their historical lag in adoption and gear up for various mandates," said Abhishek Singh, practice director at Everest Group. "These mandates include payer-provider convergence, patient-centric care, evolving reimbursement models, and value-chain digitization."
These and other findings were recently published by Everest Group in IT Outsourcing (ITO) in the Healthcare Payer Industry – Annual Report 2015: Go-to-Market Strategy for Healthcare IT. This research analyzes the current trends and future outlook of large, multi-year ITO relationships in the payer market. It also provides specific insights into enabling a go-to-market strategy for healthcare IT.
Other key findings

The deal activity in 2014—which witnessed a healthy 9 percent year-on-year growth—was led by strong spurts in the life sciences and provider subverticals and was partially offset by a decline in the payer subvertical.
Smaller deals (in terms of both value and duration) dominated the transaction scenario in 2014, with the constantly evolving regulatory environment and associated technology mandates keeping stakeholders from committing to large technological engagements. Service providers, in turn, are taking steps towards offering more integrated portfolios of services so as to lure buyers into large-ticket deals.
Market factors that promote ITO and offshoring activity include consumerization, reforms mandates, analytics and cost optimization; conversely, data security concerns and lack of proprietary platforms inhibit ITO in healthcare.
North America continues to be the dominant geography for healthcare ITO activity.
Regulatory mandates—particularly ICD-10, HIX and Medicare—have driven over three-fifths of payer ITO transactions.
Payers' short-term technology imperatives are focused on data security, analytics, legacy modernization and digital initiatives.
*** Download Publication-Quality Graphics ***
High-resolution graphics illustrating the report's key takeaways may be included in news coverage, with attribution to Everest Group. Graphics include:

Convergence is driving healthcare IT demand
Payer ITO deal activity largely driven by regulatory pressures
The global healthcare IT market projected to double by 2020
Payers' short-term technology imperatives
The evolution of customer-centric healthcare is triggering the demand for digital services and DW/BI
Service lines driving IT demand across demand categories
About Everest Group
Everest Group is a consulting and research firm focused on strategic IT, business services, and sourcing. We are trusted advisors to senior executives of leading enterprises, providers, and investors. Our firm helps clients improve operational and financial performance through a hands-on process that supports them in making well-informed decisions that deliver high-impact results and achieve sustained value. Our insight and guidance empowers clients to improve organizational efficiency, effectiveness, agility and responsiveness. What sets Everest Group apart is the integration of deep sourcing knowledge, problem-solving skills and original research. Details and in-depth content are available at http://www.everestgrp.com and research.everestgrp.com.