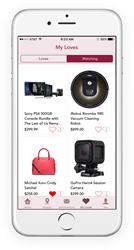 ShopAdvisor research shows that shoppers will be buying more traditional and sentimental gifts between now and Christmas
CONCORD, Mass (PRWEB) December 08, 2015
When it comes to holiday shopping, big-ticket items such as TVs, computers and headphones may be the focus for Black Friday and Cyber Monday, but according to research from ShopAdvisor, shoppers are now turning their attention to more traditional gifts – think cozy sweaters, classic handbags, jewelry and personal care products.
ShopAdvisor analyzed the purchases and buying intentions of shoppers using the ShopAdvisor app starting November 22nd. The data covered more than 250 gift categories, 16,000 retailers and a database of more than 200 million products. The analysis reveals what's left on shoppers' gift lists as well as their loved products, and watch lists, which are items they're hoping for discounts on before purchasing.
Included in ShopAdvisor's findings are the following:

At the top of shopper's lists are apparel, shoes, jewelry and items that require knowing a person's size and preferences. This indicates that shoppers are gravitating towards more traditional gifts and are buying for people with whom they have close relationships.
Electronics continue to be the most popular category for watch lists with people holding out for steeper discounts. iRobot's Roomba vacuum and Sony's Playstation are among the products topping shoppers' watch lists.
Among shoppers' most loved products are those that indicate a very personal attachment to the gift recipient. These include personalized best friend tank tops and a quirky message-emblazoned coffee mug.
This is the second year that ShopAdvisor has run this type of analysis on shopping data during the holiday shopping season. Based on last year's assessment, all indicators point to this month's upcoming Sundays and Saturdays being the days with the most shopping activity with Sunday, December 13th and Saturday the 19th poised to be the most active.
"It's a given that shopping on Black Friday and Cyber Monday is more about getting deals on the latest technology and other big ticket items. What we're revealing is where shoppers are planning to spend their money between now and Christmas." says ShopAdvisor founder and president, Scott Cooper. "If the big box stores benefited the most from those shopping days, we expect that other retailers and boutiques should do better as shoppers focus more on buying gifts that are more traditional, personal and sentimental."
Consumers can download the free ShopAdvisor mobile app from iTunes or Google Play for iOS or Android, or by visiting ShopAdvisor.com.
ABOUT SHOPADVISOR, INC.
ShopAdvisor, Inc. bridges the gap between web commerce, proximity, and retail. ShopAdvisor's mobile proximity platform, data sciences and easy to use app deliver a personal shopping concierge for consumers that advises on when, where, and what to shop. Shoppers can save items they love and be alerted when the time to buy is right, saving time and money. ShopAdvisor works with more than 30 media publishers, including Cosmopolitan, People StyleWatch, Marie Claire, Men's Health, Cooking Light, Real Simple, and many more to allow shoppers to shop directly from the publishers' omni-channel content. Consumers can download the free ShopAdvisor mobile app for their iOS or Android device, or go to ShopAdvisor.com.