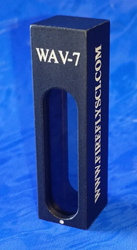 With the WAV-7 data table, we can test across a wide spectral range, testing the full performance of the instrument.
Brooklyn NY (PRWEB) December 08, 2015
FireflySci, Inc. is proving to be an extremely valuable company in the spectrophotometer calibration field. They have greatly helped laboratories save thousands of dollars with their calibration standards that never require recalibration. Now they have come up with another killer innovation that helps labs be safer and more efficient.
This new product is a dual-purpose solid state spectrophotometer calibration standard. The guys at FireflySci have named this amazing didymium filter WAV-7. The WAV-7 is made from a high grade of didymium glass that has a special optical coating. The optical coating is the same jaw-dropping coating that FireflySci uses on all their solid calibration standards. This nano-deposition coating ensures that the WAV-7 didymium filter will never require recalibration.
Having the tremendous benefit of no more yearly recalibration fees, lab managers have been able to put money back into their labs' pockets. This has been instantly valuable for every lab that has upgraded to Firefly's calibration standards. Scientists have been able to spend their money where it belongs, in purchasing new equipment with the money they saved on the yearly recalibration fees.
FireflySci's didymium glass is also remarkable because the WAV-7 filter can be used to test two critical systems in a spectrophotometer. The first test a WAV-7 didymium filter can test is wavelength accuracy. The scanning range for wavelength accuracy is 329-875 nm which covers some of the UV range and all of the visible or VIS range.
The next critical spectrophotometer test that a WAV-7 filter can test for is UV photometric accuracy. The WAV-7 didymium filter has five valuable photometric points in the UV range. These points include 270, 280, 300, 320, and 340 nm. These points are great to check if a scientist is doing a lot of work in the UV without having to invest in an expensive metal-on-quartz filter.
The WAV-7 didymium filter is traceable to the National Institute of Standards and Technology, aka NIST. What this means is that when a researcher invests in a WAV-7 calibration standard from FireflySci, it is as good as if they purchased the filter directly from NIST. The engineers at FFS actually use the same exact methodologies as NIST so everything NIST does to make a standard, FireflySci does the same exact process.
Before the launch, FireflySci has sent a few WAV-7s to interested companies. The feedback they received was tremendous. Franco G. from Kinetics Calibration stated the following, "With the WAV-7 data table, we can test across a wide spectral range, testing the full performance of the instrument."
The WAV-7 didymium filter is available now for purchase. Customers can cash in now on the yearly savings of using this powerful didymium glass filter.
For more information visit http://www.fireflysci.com.