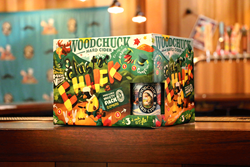 Middlebury, VT (PRWEB) December 08, 2015
Woodchuck Hard Cider is excited to announce the release of their updated variety pack, Cluster 'Chuck®. The 12-pack of ciders includes Woodchuck Amber, Woodchuck Gumption®, the appropriate Woodchuck Seasonal, and a fourth style referred to as Chuck's Choice. Chuck's Choice can be any cider from the Woodchuck portfolio.
Along with a fun and creative new packaging design, the variety pack debuts two corner cutouts that allows fans the option to see both the seasonal cider and Chuck's Choice in the new pack. This new addition to the package comes as a result of requests from Woodchuck fans. As another consumer-inspired product, Woodchuck is thrilled for the Cluster 'Chuck release, just in time for the holiday.
"Being able to integrate fan requests into our innovation is an important mission for us here at Woodchuck," said Brand Manager Cheray MacFarland. "Our fans were the reason we first put our flagship Amber into cans back in 2012, and they continue to shape who we are as a brand today."
The new Cluster 'Chuck starts to hit shelves this month with a suggested retail price of $14.99.
The Woodchuck Variety Pack will be available year round, nationwide, and for more information or to request hi-res imagery, contact Caitlin Stroupe at cstroupe(at)vthardcider.com or (802) 398-6958.
###
About Woodchuck® Hard Cider
Woodchuck Hard Cider introduced the U.S. to the craft cider category 24 years ago after it was first handcrafted in a 2-car garage in Proctorsville, Vermont. Staying true to its roots, Woodchuck is dedicated exclusively to cider making. In other words, we "Give a 'Chuck" about authenticity and handcrafting the best cider possible. Innovation is at the core of everything Woodchuck's cider makers do, which is why they continuously strive to create unique new ciders using the finest ingredients. That attention to detail has paid off and Woodchuck Hard Cider has recently received awards at the World Expo of Beer, The Great Lakes International Cider and Perry Competition and the New York International Beer Competition. For more information about Woodchuck Hard Cider visit http://www.woodchuck.com.